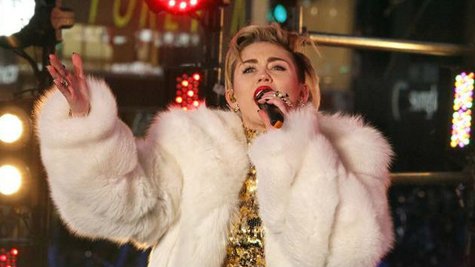 The Internet is getting a little heated over an interview Miley Cyrus gave to Love magazine, in which she reportedly dissed Beyonce by saying that she was "better" than the superstar. If you're surprised that she'd say such a thing, well, it's because she didn't.
Miley's interview with Love isn't posted online, but there are now claims online that during the chat with the mag, she said, "Beyonce has been a big inspiration to me but she's been out for such a long time....people are always looking for new blood and that's what I bring to the game now, new blood....I got the total package you know, the curves, the rhythm, and the voice. I'm just the best."
When Miley saw these quotes, she immediately responded on Twitter , "That quote people MADE UP about Beyonce just made me lol! Imagine if I said I got 'the looks and the curves I'm just better!' Bahahahhaha."
Then, she got serious, expressing outrage over the quotes. "How are people allowed to make up s**t & then out quotes around it saying I said that sh*t! WTF!!?!" She added, "don't worry. getting 2 the bottom of this s**t. making the liar retract the statement. U can cause ALOT of drama but NOT between me & B!"
Meanwhile, the website that originally posted those quotes has now removed the article.
Copyright 2014 ABC News Radio