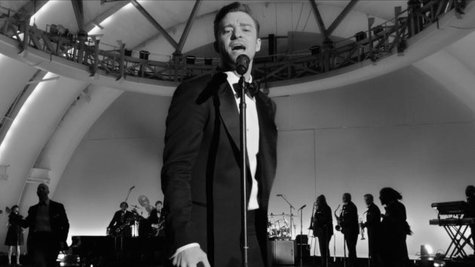 "I think I'M READY," Justin Timberlake tweeted in early January 2013. What he turned out to be ready for was a spectacular return to music -- something many fans feared he'd permanently abandoned in favor of acting -- via his first new album in seven years.
Justin cleverly teased his new music with an online build-up that included a YouTube video in which he explained why he hadn't released any new songs, and was then shown going into a recording booth, putting on headphones and saying, "I'm ready." He then posted a countdown clock on his website, but didn't reveal if it was a new album, a new song, or both. The answer came on January 15, when a new single, the Jay-Z collaboration "Suit & Tie," went live.
That was followed by not one, but two new albums over the next 12 months: The 20/20 Experience, and The 20/20 Experience -- 2 of 2 . Most of the songs on both albums had been recorded in about 20 days in July of 2012, though Justin had seriously begun working on the project in secret in May of 2012. How secret? Even his manager wasn't aware that he and Timbaland had been in the studio.
Of the two, it was the first one, The 20/20 Experience , that got the best reviews, produced the most hits, and set the sales records. When it came out in March, it debuted at #1 with first-week sales of 968,000 copies: the largest single sales week of the year for an album. It spent three weeks at #1 and ended up as the year's best-selling disc overall, spinning off both "Suit & Tie" and an additional smash hit, "Mirrors." Billboard named it the #1 album of 2013. 2 of 2 also debuted at #1 when it was released in September, but sales weren't as strong.
Justin, clad in a custom-designed Tom Ford wardrobe, supported the releases with many TV appearances and two different tours: the first, a stadium co-headlining trek with Jay Z called Legends of the Summer, and the second, a solo headlining tour, which will continue traveling around the world in 2014.
What should have been the high point of Justin's big comeback came in August, when he received the Michael Jackson Video Vanguard award at the MTV Video Music Awards. During the event, he performed a lengthy medley of his hits, and even managed to reunite his old boy band, 'N SYNC, to perform a brief medley of their hits. While in any other year, these would have been among the most talked-about VMA moments on record, everybody pretty much forgot all about them after they got a load of Miley Cyrus' performance that same night. Also forgotten in the excitement: JT won the Video of the Year award for "Mirrors," becoming the first male solo artist to do since 2002.
That wasn't the only honor that JT received in 2013. He swept the American Music Awards, picking up three trophies, and received seven Grammy nominations, though not in the category of Album of the Year. Justin was even nominated for a Golden Globe Award for co-writing "Please Mr. Kennedy" for the Coen Brothers movie Inside Llewyn Davis , in which he co-stars.
Speaking of films, while ruling the charts through 2013, Justin also managed to keep his movie career going. In addition to Inside Llewyn Davis, we also saw Justin on the big screen in the poorly-reviewed thriller Runner Runner, opposite Ben Affleck . He also was confirmed to star in an upcoming film called Spinning Gold, about the life of late music mogul Neil Bogart , for which shooting begins in 2014. On top of that, JT and his wife Jessica Biel executive-produced a documentary called The Short Game, about seven-year-old champion junior golfers.
Of course, any year wouldn't be complete without a Justin Timberlake appearance on Saturday Night Live, and we got two in 2013. In March, Justin joined the so-called Five-Timers Club when he hosted the show for the fifth time; he was also the musical guest that night. It was a standout episode, featuring guests stars like Steve Martin , Alec Baldwin , Tom Hanks , Paul Simon , Chevy Chase, Candice Bergen, Andy Samberg and Jay-Z , as well as the long-awaited return of Justin and Andy's "D**k in a Box" characters.
That SNL episode earned the show's highest ratings in 14 months, and in May, an Entertainment Weekly poll dubbed Justin "Mr. Saturday Night Live 2013" as the best host of the season. Around that same time in March, Justin did a week-long stand on Late Night with Jimmy Fallon , the first for any artist on Fallon 's show. Fallon was the host in December when Justin made his second SNL appearance of 2013 as the musical guest. Of course, JT couldn't help but appear in a few sketches as well.
Copyright 2013 ABC News Radio