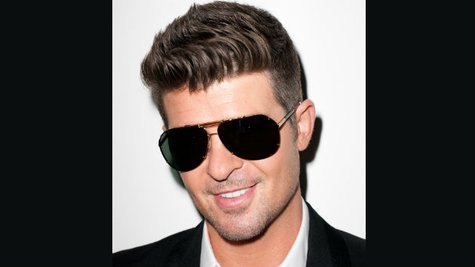 R obin Thicke has made it clear that he's fighting to save his marriage with Paula Patton . Following the announcement of their separation , the singer dedicated a song to his estranged wife during his first concert after their breakup.
In fan concert footage posted to YouTube, Thicke is seen addressing his martial woes for the audience inside the Patriot Center in Fairfax, Virginia, on Thursday, February 27. "For those of you who don't know, my wife and I got separated a few days ago," Thicke told the crowd. "But you know, I want everybody here to know that I'm trying to get my girl back."
He continued, "She told me, she said, 'You should go out there and tell them the truth. Tell them that you're trying to get me back' ... she's a good woman." Before beginning the tune, he even asked the crowd to help get him "through this."
The crooner, who was still wearing his wedding ring, then dedicated his 2007 hit song, "Lost Without U," to Patton, who inspired the heartfelt ballad.
The pair have been married for eight years and are the parents to 3-year-old son Julian .
Copyright 2014 ABC News Radio