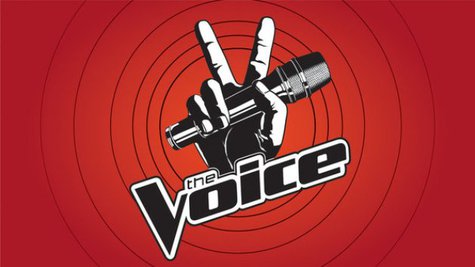 It was the second night of the blind auditions on NBC's The Voice on Tuesday night. Adam Levine , Blake Shelton , Shakira and Usher sat in their rotating chairs as they listened to more hopefuls and continued to build their teams.
Delvin Choice , the "singing barista" who flunked his Voice audition last season, showed much improvement with Leon Russell 's "A Song for You," which was also made famous by Donny Hathaway . Adam said he didn't recognize Delvin's voice at all, and that he had no doubt Delvin can win the competition. Shakira promised to take Delvin to the top, which Adam mocked with a fake Latin accent. Delvin joined Adam's team.
Sixteen-year-old Madilyn Paige sang "Titanium," by David Guetta . Shakira and Usher both made a bid for her. Usher said she showed off different dynamics of her voice, while Shakira told her she wants to work with a young female artist like her. Usher countered that he has experience working with a teenager, referring to Justin Bieber . Madilyn picked Usher.

Noah Lis , who is inspired by the likes of Frank Sinatra , covered "Me and Mrs. Jones," by Billy Paul . He had his choice of Adam and Blake, and he settled on Blake.
Keith Shuskie had a unique look, with a curly mustache, a nose ring, and suspenders. He performed the Keane hit "Somewhere Only We Know," but none of the coaches turned their chairs.
Deja Hall , 16, belted out Cyndi Lauper 's "True Colors." Blake, Usher and Shakira pressed their buttons. She joined forces with Shakira.

The final artist of the night was Cary Laine , who sang The Band Perry 's "Better Dig Two." All four coaches battled with her. Usher asked her if she'd feel more comfortable if she replaced her boots with sneakers. Adam tried to help Cary feel relaxed by allowing her to sit in his chair. She ended up taking a seat in other chairs, too. Eventually, she joined Team Adam.
The blind auditions continue next Monday and Tuesday night on NBC.
Copyright 2014 ABC News Radio