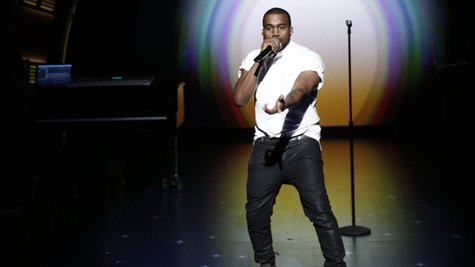 Kanye West wrapped up the North American leg of his Yeezus tour Sunday night on Long Island and said during an appearance Tuesday on NBC's Late Night with Seth Meyers that he even though it went well, he felt a bit sad that it's over.
West told Meyers, "I thought it went really good," confessing, "it's kind of... sad when it's over, because you put so much into it, but...it's kind of fun to express something that you created."
West now takes the tour on the road overseas, with dates in Australia starting in May.
Kanye also talked about his desire to be taken seriously as a designer. He told Meyers that because he's been so successful as a recording artist, people try to keep him in a creative box. "I give you paintings, sonic paintings," Kanye said, and claimed he can "see sound" because he has the condition synesthesia.
Comparing himself to Michelangelo , whom Kanye said "wanted to do sculptures" while the Church wanted him to paint, the rapper said, "The difficult thing for me, is...due to the fact that I'm a celebrity...They're like, 'No, you can't do this. You have to do this kind of line.'"
Kanye said of his struggles, "I'm in the process of tearing down walls people will be talking about ten years from now."
Meyers said he's "betting" Kanye will soon take the fashion world by storm. "Thank you. I appreciate you betting on me," Kanye replied before adding, "It would be great if you owned a fashion company and could support me..." Meyers replied, "Now, Kanye, I'm pretty happy I just got a talk show, and I don't want to worry that I don't have a fashion line."
Kanye also briefly talked about his baby North , with fiancee Kim Kardashian , saying the baby "totally" inspires him in all facets of his life.
The rapper closed the show with a medley of his hits, including "Stronger."
Copyright 2014 ABC News Radio