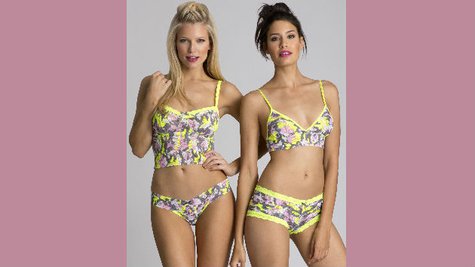 Gwen Stefani's L.A.M.B. fashion label just got sexier -- she's partnered with another company to create a new line of L.A.M.B. lingerie.
The new line of bras, panties and other intimate apparel is a collaboration with Hanky Panky, which bills itself as the maker of the World's Most Comfortable Thong. The collection, called L.A.M.B. X HANKY PANKY, will be available at leading retail stores and online, and will feature four different patterns, available on bras, thongs, tanks, hipsters, boyshorts and G-strings, depending on which one you choose.
"Geo" is a vintage-inspired print that comes in pink, rose, beige and black, with lace and black accents. "Old School Old English Jersey" features Gwen's signature "Love Angel Music Baby" slogan printed on the pieces with black trim and hot pink rosettes. "Lambie Camo" is a fluorescent pink, gray, white and neon yellow camouflage pattern, and "Rasta Jersey & Rib" incorporates red, gold and green stitching details, with gold hardware and black lace.
The L.A.M.B. X HANKY PANKY line launches internationally July 2014.
And as if that weren't enough, the singer and entrepreneur is also launching a line of shoes and handbags. It debuts Wednesday under the name gx by Gwen Stefani, and she tells E! , "I created [the line] with the goal of making amazing shoes and bags at really great prices. Gx is super luxurious and stylish but still affordable." There are three styles of footwear -- all with sky-high heels -- and they all cost under $110 each.
Copyright 2014 ABC News Radio