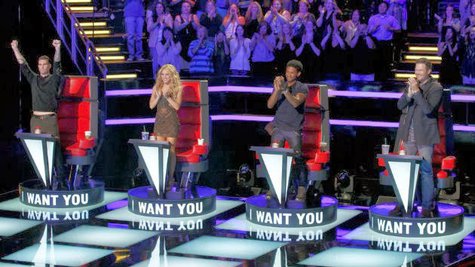 The sixth season of NBC's The Voice premiered Monday night with the first series of blind auditions.
Adam Levine and Blake Shelton welcomed back as coaches Shakira and Usher , who previously filled in for Christina Aguilera and Cee Lo Green last spring. Cee Lo announced last week he will not return to the show.
Before the blind auditions began, the coaches collaborated on some duets. Blake and Shakira teamed up on her hit "Whenever, Wherever" before transitioning into his song "Boys 'Round Here."

Afterward, Adam and Usher entered the spotlight for renditions of "Love Somebody," by Adam's group Maroon 5 , and Usher's tune "Without You."
Here are the highlights of the auditions:
Christina Grimmie , a YouTube star who once toured with Selena Gomez and the Jonas Brothers , was first up with what has now become a reality show staple: "Wrecking Ball," by Miley Cyrus . Usher and Shakira quickly pressed their buttons and turned their chairs around. Adam and Blake followed suit, with Adam saying Christina appears more comfortable on stage than he does. Shakira urged Christina to pick her because, she said, she was well rested after sitting out last season. Christina decided to choose Adam.
Wearing a shiny blue sports coat, T.J. Wilkins performed Elton John 's "Bennie and the Jets." All of the coaches turned around except for Shakira. Usher praised T.J. for his creative falsettos, while Blake noted the contestant's ability to show off a full voice without straining it. T.J. went with Usher.
Kristen Merlin , who in a taped segment shared her story about how she came out, covered Sugarland 's "Something More." Adam and Shakira both made a bid for Kristen. Shakira bragged that she has more than 20 million Twitter followers, which would help her promote Kristen and get her votes. The sales pitch worked, as Kristen joined Team Shakira.
Biff Gore , a worship leader, sang the Sam Cooke classic "A Change Is Gonna Come." All four coaches tried to add him to their team. Biff declared that he wanted a coach who could take him straight to the top, then joined forces with Usher.
Couple and folksy duo Dawn & Hawkes played The Beatles ' "I've Just Seen a Face" on acoustic guitars. Adam boldly stated that it was his favorite performance ever on The Voice . Not surprisingly, he landed Dawn & Hawkes for his squad.
Leo Gallo , a member of a former boy band assembled by Quincy Jones , was rejected. Adam accurately guessed that Leo danced during his performance, and said it might've taken away from his vocals.
Jake Worthington , who appeared on the show last season, performed Keith Whitley 's "Don't Close Your Eyes." Adam, Blake and Shakira pressed their buttons, with Shakira calling Jake's singing "perfect." In turn, Jake told Shakira she's perfect, which led Adam to yell, "Don't be blinded by lust." Blake jokingly called Shakira a "crappy coach." Jake stayed true to his country roots and chose Blake.
Bria Kelly , a 17-year-old who once opened for Blake's wife, Miranda Lambert , told the cameras that her mother, who taught her how to sing, was diagnosed with sepsis, a potentially fatal blood infection. Fortunately, her mother's condition has improved. The coaches were blown away by Bria's version of "Steamroller Blues," by James Taylor . Usher announced, "Ladies and gentlemen, we have just heard THE voice." He also showed off his Grammy trophy to curry favor with Bria, and it worked; she chose him to be her mentor.
By the end of the episode, Usher had three contestants on his team; Adam and Shakira had two each; and Blake had one.
NBC will air more blind auditions on Tuesday's one-hour episode, which begins at 8 p.m. Eastern time.
Copyright 2014 ABC News Radio