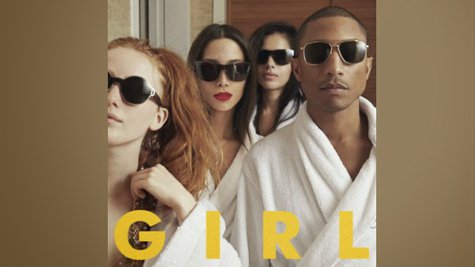 Pharrell Williams has unveiled the official track list for his forthcoming album, G I R L, which arrives next month.
The hitmaker posted the final roster in an Instagram video on Monday night. A spin of the album at a record company listening session earlier this week confirms earlier reports that the disc includes guest spots from Alicia Keys , Justin Timberlake , and Miley Cyrus . In addition, though they're not listed, Daft Punk appears as background vocalists on the track "Gust of Wind."
While it's not listed on Pharrell's Instagram video, there's a hidden song between tracks 8 and 9 called "Freq (Interlude)," which features the sound of ocean waves, and the singer repeating the lines, "You gotta go inward/to experience the outer space" over a complicated string arrangement.
Pharrell's upcoming effort, which is full of uptempo, disco-flavored jams, is his Columbia Records debut. It's available for pre-order now, and includes "Happy," which Pharrell will perform on the Academy Awards telecast March 2 on ABC. The album arrives at retailers the next day.
Here's the official G I R L track list:
"Marilyn Monroe"
"Brand New" (featuring Justin Timberlake)
"Hunter"
"Gush"
"Happy"
"Come Get It Bae" (featuring Miley Cyrus)
"Gust of Wind"
"Lost Queen"
"Know Who You Are" (featuring Alicia Keys)
"It Girl"
Copyright 2014 ABC News Radio