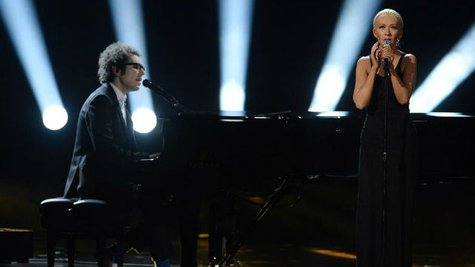 One of the most unexpected musical successes of late 2013 was "Say Something," the moving duet between pop duo A Great Big World and Christina Aguilera . After falling in love with the song, Christina asked A Great Big World if she could add her vocals to a new version, but they were surprised to find out that what the powerhouse vocalist had in mind involved her singing less, not more.
As the duo's Ian Axel tells ABC News Radio, they went into the studio prepared with ideas of what parts of the song they could give to Christina for her to sing. "We're like, 'OK, let's give her a verse; maybe she can do this more powerful, belting vocal, and it'll work here," he recalls. "But when we got there, she's like, 'I don't want to do that. I don't want to take a verse. Let's just press record. Let me try something.'"
What she tried, the duo recalls, simply blew them away.
"The second she opened her mouth to sing over the verse it was like, 'Oh man! Oh man! Oh man! It was so good," the duo's Chad Vaccarino tells ABC News Radio. Ian adds, "The first time we heard that was, like, a magical moment." "Literally, like, the first few takes that is what we used," says Chad.
But getting those takes was pretty intimidating for the duo, who felt quite uncomfortable suggesting vocal ideas to a Grammy-winning veteran like Christina. "We had to work with her and talk about different harmonies and things like that," Ian recalls. "And it was just, 'Who are we to give her any sort of direction?' So I was very shy."
"It's hard," Chad laughs. "If you want her to sing a different harmony, it's like, 'Why don't you try this... Christina Aguilera ?"
But far from finding her to be a diva, Ian and Chad say that the newly engaged singer, who's expecting her second child with her fiance Matt Rutler , was incredibly down to earth, and willing to get down and dirty with them. She even invited them over to her house to play paintball after they sang together on the American Music Awards.
"She has targets in her backyard," Ian tells ABC News Radio. "So after the AMAs, she was like, 'You want to come over?' And we were like, 'Yeah.' So we went over there and we shot paintball in her backyard and let off some steam. Because the day for us was completely terrifying; the AMAs were just terrifying."
After the paintball, Ian says, "We watched Blackfish ." Yeah, no big deal.
If you want to catch A Great Big World singing "Say Something" without Christina, they've got tour dates lined up in March and April. Check their website for all the details.
Copyright 2014 ABC News Radio