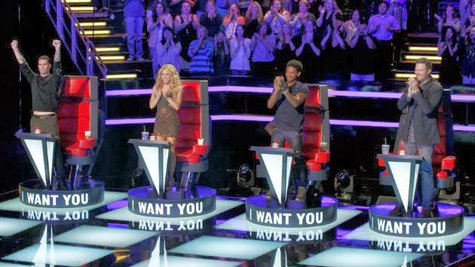 On The Voice , it's always fun when any of the coaches take the stage for a performance, so viewers are sure to enjoy the opening moments of season six, which kicks off Monday night. You'll see all four coaches -- Adam Levine , Blake Shelton , and the returning Shakira and Usher -- get up and sing each other's songs . If the idea of Blake singing a Shakira hit intrigues you, you're going to want to tune in.
Things get underway with Blake doing just that, putting his own spin on Shakira's 2001 smash " Whenever , Wherever," but stopping before he has to sing the line, "Lucky that my breasts are small and humble." Shakira follows that up by belting out Blake's hit "Boys 'Round Here." Next up is Usher, crooning Maroon 5 's hit "Love Somebody," and then Adam follows him on stage to sing Usher's hit "Without You."
But enough of the onstage camaraderie: the coaches all on equal footing this season, and that means it's on . "With Usher and Shakira [last time], there was a learning curve because we had already been doing it for a few seasons," Adam says. But now, he says, "They're with it, and so it's totally level, and it makes it harder for Blake and myself to survive in that climate because we can't lord over them as veterans anymore."
As a result, Adam says, "I think that we're all really kind of going for it, and gunning for each other in a fun, competitive way. I think that now, more than ever, it seems like one person inspires another person to turn around, and it kinda rolls like dominoes...I love that, it keeps the competitive spirit alive."
And speaking of competitive spirit, Adam says Shakira is out for blood this time.
"I see a fearlessness," he explains. "Y'know, Shakira was pregnant when she started, so that's all come and gone, she's got a kid, she's got her hormones back together, and now, she can focus 100% on annihilating the rest of us!"
Part of her plan, Adam says, is her using her feminine charms. In fact, he says all the other coaches have little tricks that they use to persuade contestants to join their teams. For example, he says, "Shakira likes to talk about her amazing career and all the things she's achieved as a lure. She likes to play the 'girl' card: 'I'm a woman, you need a female perspective." As for Usher, Adam says he uses "seduction techniques," adding, "He wants to, like, convey that he might want to sleep with everyone."
But of course, it's his chief rival Blake Shelton whose tricks Adam has the most disdain for.
"Blake, he uses geography," Adam explains. "He's like 'Where are you from?,'...and if it's anywhere, like, within a thousand miles of [his home state of] Oklahoma, he thinks that that means that he can get someone on his team."
Adam scoffs, "He thinks if you live in 'the South' that [means], like, 'Oh, I got this!' Oh, and he uses [his wife] Miranda Lambert . Miranda Lambert and geography. And also [his] dimples, and [all that] 'I've won the show a lot' crap."
So far, it seems Blake's tricks are working. In the five previous seasons, Team Adam has won twice, but Team Blake has won three times. Find out who'll build the best team this season, when The Voice returns Monday night on NBC, starting at 8 p.m. ET.
Copyright 2014 ABC News Radio