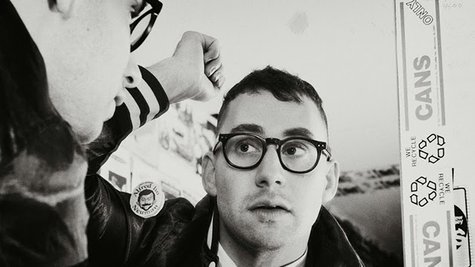 These days, fun. guitarist Jack Antonoff can brag that he's dating Girls star and creator Lena Dunham , but it turns out that back in high school, his girlfriend was someone who's even more high profile: Scarlett Johansson.
Dunham revealed this amazing fact in an interview posted on Grantland, as part of a discussion about the Tumblr blog Old Loves , which documents celebrity couples who are no longer together. "Old Loves is my passion, I check it, like, once a week. It's how I kick back on a Friday night," she said . "And I was going through it and I saw my boyfriend and his girlfriend from high school."
Sure enough, a photo on the site dated 2001 shows Antonoff with Scarlett Johansson, who has red hair, but is still recognizable as the blonde sex symbol we all know today.
But Dunham insisted she isn't jealous, explaining, "She's beautiful, he's beautiful, but it was just so surreal to be looking through this blog that gives me so much pleasure, and then there's my boyfriend. I was like, 'My mind is going to explode.'"
Dunham and Antonoff have been together since 2012. Johansson was married to Ryan Reynolds from 2008 to 2011; she's now engaged to her boyfriend Romain Dauriac [roe-MAHN daw-ree-ACK].
Copyright 2014 ABC News Radio