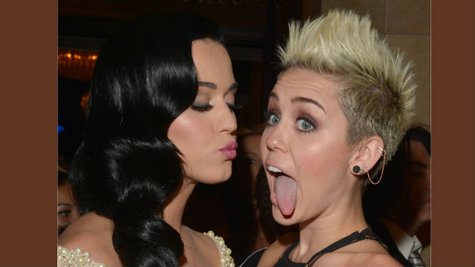 Miley Cyrus' concert in L.A. on Saturday night brought out the stars, and the singer got up-close-and-personal with one of them: Katy Perry . In fact, she and Katy played out the title of Katy's first #1 hit in real life.
As E! reports, during the song "Adore You," Miley bent down into the audience and smooched Katy on the lips. As captured in a fan's Instagram video, Miley told the crowd, "I just kissed a girl and I really liked it a lot." She later posted a photo of the moment on Twitter.
Katy, meanwhile, posted a photo of herself , turning away with her hand over her mouth in shocked surprise, after the smooch, and wrote, "I adore you @mileycyrus."
Christina Aguilera also attended the show, and later posted a photo of Miley onstage wearing a skimpy costume that included chaps. They were reminiscent of the chaps that Christina herself wore in her sexy and controversial video for the song "Dirrty," which is why her caption for the photo read, "Cheers from one dirrty girl to the next @MileyCyrus ...wear em' loud & proud, girl- yes!!"
Copyright 2014 ABC News Radio