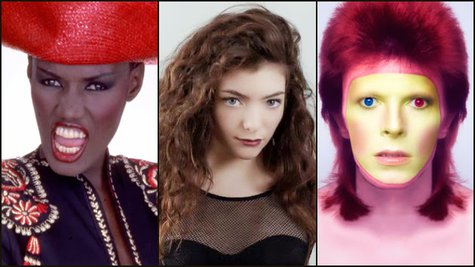 There are people out there who simply can't believe that Lorde is only 17 years old, and based on some of the things she says, it's easy to see why some feel she's got to be older. For example, she claims her personal fashion icons are two sixty-something singers with whom few people her age are likely familiar.
Speaking to Vogue magazine , Lorde says her favorite fashion labels are Comme des Garçons, Miu Miu, Moschino, and Simone Rocha, which is all well and good. "The kind of clothes that I've found I like to wear over the past year and six months have all been things that make me feel powerful and strong," she explains. "I wear a lot of pants. I wear a lot of long, structured dresses."
Then, she reveals that her personal style icons are "people like Grace Jones and David Bowie , who have such a sense of themselves."
British singer and songwriter Bowie, who's 67, is a Rock and Roll Hall of Famer who's known as much for his music as for his outrageous fashion choices over the years. Onstage, he's worn everything from platform boots, an eye patch and silver face makeup, to sharp tailored suits, to dresses. As for Grace Jones, she's a 65-year-old singer, model and actress known for her startling androgynous appearance and angular outfits. Lady Gaga i s a big fan of hers as well.
Of course, Lorde doesn't expect people her age to have the same sort of inspiration. "It's a fine line between being a role model and preaching to people," she tells Vogue . "I never want to tell anyone how they should be, especially not someone my age."
"But, that being said, I'm conscious of the fact that people my age are reading what I say and listening to what I say, and that's cool -- particularly for the girls who are into what I do," she adds.
Copyright 2014 ABC News Radio