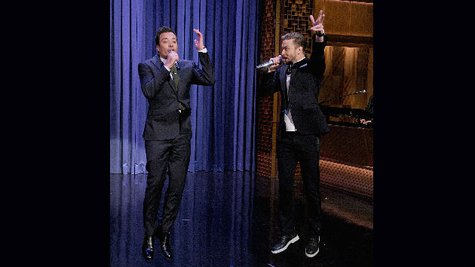 Just because Jimmy Fallon is now the host of The Tonight Show doesn't mean that he won't keep doing all the bits he used to do on his old show. Want proof? Fallon's buddy Justin Timberlake came by Friday night to wrap up his first week as host, and the two immediately busted out the fifth installment of their wildly-popular "History of Rap" segment.
After Fallon introduced JT, the two looked at each other for a few seconds, and then each of them picked up a microphone. The audience went nuts as the two men took center stage and kicked into "I'm Bad" by LL Cool J. They then proceeded to run through more than 20 other rap hits, from novelties like the Fresh Prince of Bel-Air theme song, to classics like N.W.A.'s "Straight Outta Compton," to forgotten favorites like Positive K's "I Got a Man," to current hits like Drake's "Started from the Bottom."
At the end of the performance, Justin and a visibly-exhausted Fallon ran up into the audience, finishing with Run DMC's "Walk This Way."
Later in the show, Justin, who taped his appearance before heading to Madison Square Garden for a concert, performed his song "Not a Bad Thing" from his album The 20/20 Experience -- 2 of 2.
Here's a full list of the songs Jimmy and Justin performed for "The History of Rap 5:"
LL Cool J -- "I'm Bad"
Run DMC -- "Beats to the Rhyme"
Crazy Calls - "Wait for the Beep"
Beastie Boys -- ""(You Gotta) Fight for Your Right (to Party)"
Tone Loc -- "Wild Thing"
DJ Jazzy Jeff & the Fresh Prince - "Fresh Prince" Theme
Salt N' Pepa -- "Whatta Man"
Positive K -- "I Got A Man"
The Notorious B.I.G. - "Big Poppa"
Dr. Dre feat. Snoop Dogg - "Dre Day"
Warren G feat. Nate Dogg - "Regulate"
N.W.A. -- "Straight Outta Compton"
Ini Kamoze - "Here Comes the Hotstepper"
Outkast - "So Fresh, So Clean"
Busta Rhymes feat. P. Diddy & Pharrell -- "Pass the Courvoisier, Part II"
Kris Kross - "Jump
Skee-Lo -- "I Wish"
Jay Z - "99 Problems"
Ludacris -- "Move B***h (Get Out the Way)"
Drake -- "Started From the Bottom"
Kendrick Lamar -- "Swimming Pools (Drank)"
Kanye West feat. T-Pain -- "Good Life"
Run DMC -- "Walk This Way"
Copyright 2014 ABC News Radio