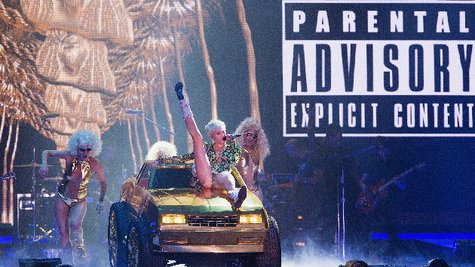 Miley Cyrus has a message for anyone who might be up in arms over the fact that her Bangerz tour features some fairly racy content: it's not like she didn't warn people about it.
On Twitter, Miley wrote "You can't say I didn't warn you. Now sit back relax & enjoy the show." She illustrated her point with an image of herself on stage in front of a very large sign that says "Parental Advisory: Explicit Content."
"Save your complaints for the McDonalds drive thru when they forget the 'fries with that,'" she added unapologetically.
As previously reported, Miley's Bangerz tour features, among other things, skimpy costumes, drug imagery and onstage pantomiming of sex acts.
Miley also mentioned on Twitter that her album Bangerz has been certified platinum by the Recording Industry Association of America for sales of a million copies.
Copyright 2014 ABC News Radio