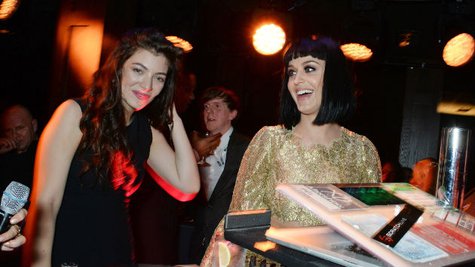 You'd think after taking home a couple of Grammys, Lorde would be jaded about awards, but that's not the case at all. After picking up the Best International Female Award Wednesday night at the Brits -- the British equivalent of the Grammys -- the 17-year-old could hardly contain her excitement on Twitter.
"I JUST WON A BRIT AWARD I AM OUT THIS IS THE COOLEST THING EVER," she tweeted in all caps, and then posted a photo of herself on stage accepting the trophy. "This is me being stoked winning a [B]rit," she captioned the photo. "Look at my cute chubby face." Backstage, she pronounced herself "really grateful" for her win, noting that she didn't expect it at all, given that she was up against the likes of Pink , Lady Gaga and Katy Perry . She also said she couldn't believe that Prince walked by her in the corridor, saying it was "the craziest moment ever."
And speaking of Katy Perry, Hello! magazine has a photograph of her and Lorde DJ-ing together at a star-studded Brit Awards after-party at London's Soho House. It was just last year that Lorde revealed that she'd turned down the chance to be Katy's opening act on her upcoming Prismatic world tour because she felt it just wasn't the right thing for her to do. Wonder if she mentioned that during the party?
Copyright 2014 ABC News Radio