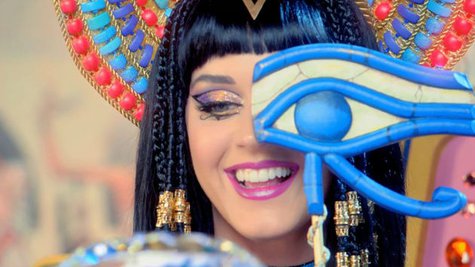 So you wanna play with magic? Katy Perry shows what happens to men who do in the new Egyptian-themed video for "Dark Horse," which has just debuted online .
In the clip, Katy is "Katy Patra," an Egyptian queen who sails down the Nile on a lavish barge, and sits on a throne while suitors approach her bearing lavish gifts. Unfortunately, none of them meet her expectations. No matter how extravagant the gift offered -- from a massive diamond, to bowls of delicious snacks, to a fancy car, to an adorable pooch -- Katy Patra rejects it, and literally turns suitors into dust with her fearsome magic. One even gets turned into a dog.
At the end of the clip, Katy's not just the queen anymore -- she appears to morph into the Egyptian goddess Isis, ruling over all while perched on top of a sky-high pyramid-type building.
Juicy J , who's featured on the #1 hit, appears in the clip too; he's seen emerging from a sarcophagus, like a mummy.
Copyright 2014 ABC News Radio