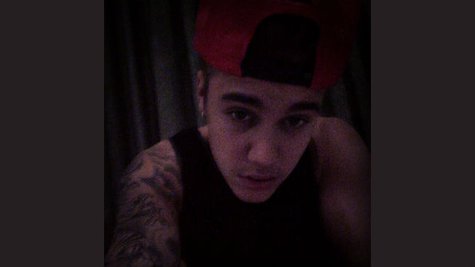 Although his recent behavior would seem to contradict that statement, Justin Bieber has tweeted that he is "always working to get better."
Justin, who's been charged with DUI in Miami and assault in Toronto, is a suspect in a vandalism case in California, and is accused of smoking prodigious amounts of weed, wants his fans to know that he's actually focusing right now on what made him famous: music. On Wednesday, he tweeted , "Dance rehearsal. Guitar practice. Workouts. Voice strengthening. Studio writing sessions. Always working to get better. Work hard. Be great."
Then, noting the support he's received from fans, he added , "I see all your comments. Keep strong. Be the best that you can be. Much love." He also acknowledged his mom Pattie , who along with his dad Jeremy have come under fire for not keeping a tight enough rein on their teenage son. "I love my mama," Justin tweeted to Pattie, who responded , "Awwww :) I love u too. Xoxoxo."
A source recently told E! that Pattie is "holding [Justin] close and talking to him about everything, but she can't make his decisions for him." The source added that Pattie is "genuinely concerned" for Justin, and claimed, "She talks with him almost every day, which is likely more than any mom and a 19-year-old son."
Copyright 2014 ABC News Radio