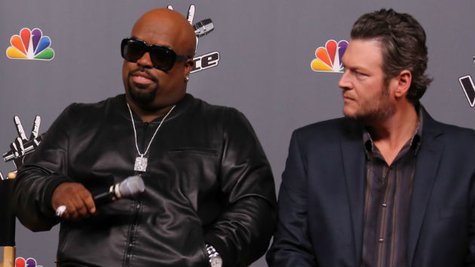 Cee Lo Green 's unexpected announcement Wednesday on The Ellen DeGeneres Show that he won't be returning to NBC's The Voice as a coach didn't just surprise his fans...it also surprised one of his fellow coaches.
Informed of Cee Lo's decision by reporters on Wednesday afternoon, Blake Shelton said, "Even though I hate hearing that -- I'm hearing it right now for the first time -- I campaigned a lot for Cee Lo to stay."
Referring to the fact that the show has featured a rotating lineup of coaches for the past few seasons -- the new season that begins on Monday includes Shakira and Usher , as well as Blake and Adam Levine -- Blake added, "I knew what the network was doing with changing coaches in and out but I figured....I dunno, in the back of my mind I guess I hoped Cee Lo would be back."
But Blake says he can't blame the "Forget You" singer for wanting to move on to other projects.
"He's got so much going on in his mind and so much creativity that a lifetime probably's not enough to explore everything that he wants to try to do," Blake told reporters. "And he probably feels like he's done his time on a reality show and he's ready to go do...a puppet show or whatever he's got in mind next. Maybe stripper puppets or something!"
"So I'm not surprised he's moved on," Blake concluded. "It makes me sad, though."
Copyright 2014 ABC News Radio