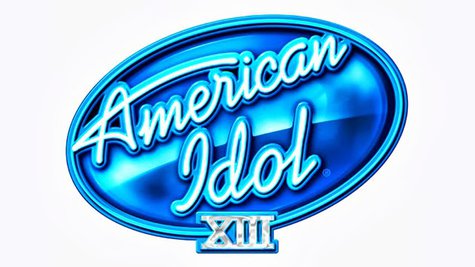 After uneven performances by the Top 10 girls on Tuesday night, American Idol's Top 10 boys from season 13 did a somewhat better job on Wednesday night. There weren't any outright train wrecks, but judges Jennifer Lopez , Harry Connick Jr . and Keith Urban -- O.K., mostly Harry -- did criticize the contestants several times for such basic things as -- gasp! -- not singing in tune.
The Top 10 boys, selected by the judges from a field of 15, were Caleb Johnson , C.J. Harris, Emmanuel Zidor , Sam Woolf , George Lovett , Dexter Roberts , Alex Preston , Malcolm Allen , Spencer Lloyd , and Ben Briley . You may recall that on Tuesday night, Ben was chosen to move on in the competition by America's vote. Left out in the cold, but invited to try again next year, were Briston Maroney , Casey Thrasher , Ethan Harris , Jordan Brisbane and Maurice Townsend .
Here's what happened Wednesday night:
Rocker Caleb Johnson got the show off to a strong start with a version of the Faces' "Stay with Me." Keith called it "killer," and said Caleb was "so cool." Jennifer raved, "That was some rock star ish, right there," and called it "amazing."
C.J. Harris performed "Shelter" by Ray LaMontagne while sitting on a stool playing guitar. Keith said that C.J. was a mixture of the late Dobie Gray -- the guy who sang "Drift Away" -- and young blues artist Jonny Lang , while J-Lo said C.J. made her smile. Harry said that C.J. had "great talent," but criticized his intonation, saying he constantly went sharp on the notes. C.J., who had a root canal on Tuesday, just seemed happy to be there.
When Harry announced that the judges had chosen Emmanuel Zidor, he stressed that a big part of the contestant's appeal was his ability to entertain, possibly to stave off any criticism of his voice. Emmanuel performed the Emotions' "Best of My Love," but got so into the performance that Harry, while praising Emmanuel for being "too much fun," accused him of getting "out of control" and added, "Don't forget to sing." Keith similarly asked Emmanuel to "reign in" his tendency to be over-the-top. Jennifer seemed so concerned that people would be put off by Emmanuel's less-than-stellar performance that she asked him to sing a bit of Mary J. Blige 's "I'm Goin' Down" a cappella, to remind people how good his voice is.
Sam Woolf performed David Gray 's "Babylon," accompanying himself on guitar. Keith said Sam's voice was "money," and praised his song choice; Jennifer said his vocals were "natural" and "pure." Harry called the performance "really good," but said he hoped that Sam's confidence would grow if he continues in the competition.
George Lovett sang Bruno Mars' "Grenade," but Harry said the performance "spun out of control," adding, "I've heard you sing better." Keith didn't think it was the right song, and Jennifer advised George to control his vocal runs.
Country boy Dexter Roberts, who for the first time performed without wearing a baseball cap, sang "This Ole Boy" by Craig Morgan . Harry said he was a solid and likeable performer who did a nice job, and noted that he seemed like he would fit right in among today's crop of male country stars. However, both he and Keith wondered what Dexter can do to make himself stand out among all those other male country stars. Jennifer praised Dexter for not being nervous at all.
Quirky Alex Preston, who plays 11 or 12 instruments, sang "Volcano" by Damien Rice , a song that Phillip Phillips tackled in season 11. Keith called it the best song choice of the night, and said it was "really cool," while Jennifer told Alex he was in his own lane, and thought he could go far in the competition because he played interesting songs that not everybody might be familiar with. Harry praised Alex's musicality and guitar-playing.
Malcolm Allen sang Anthony Hamilton 's "Comin' from Where I'm From," and Harry had to tell him to "focus on singing in tune," noting that he was continually sharp throughout. Jennifer said he should have showed more emotion in a song like that, and advised him to "bring the heart and soul." Keith said it would have been better if he'd stripped the song down and performed it without the band.
Ben Briley played electric guitar and sang "Soulshine" by the Allman Brothers. Keith praised Ben's voice, but wasn't crazy about the guitar playing. Jennifer said he "comes alive" onstage, and Harry said Ben did a great job. Ben mentioned that his great-grandmother was "one of the first women to perform at the Grand Ol Opry," and that his mom was the " Taylor Swift of the '70s," but didn't mention their names, so the audience was left wondering just who these talented women were.
Spencer Lloyd sang The Fray 's current single "Love Don't Die." Randy Jackson advised him to sing with his guitar, but Adam Lambert advised him to ditch it, so he did. Jennifer said he had star quality and "moved the crowd," but Keith didn't think it was Spencer's best performance. Harry was pretty harsh, telling Spencer, "This was not good," and saying he should go back to singing songs like "Say Something" by A Great Big World , like he did during Hollywood Week.
Thursday night, we'll find out which boys and girls got America's votes, and who'll be making up the Top 10. The judges will then each choose their Wild Card picks, rounding the finalists out to a Top 13.
Copyright 2014 ABC News Radio