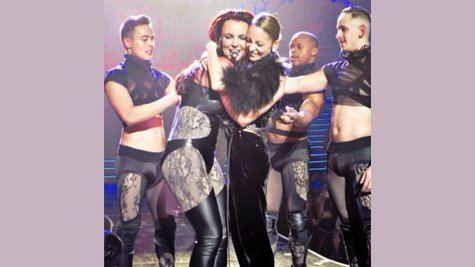 Since Britney Spears kicked off her Piece of Me Las Vegas residency, she's welcomed several onstage guests, including Lance Bass and Mario Lopez . But on Tuesday night, a female star joined Brit on stage: Nicole Richie .
E! Online reports that Britney dedicated the song "Freakshow" to Nicole, who joined her for that particular segment of the show, which usually involves someone being forced to crawl around on all fours while Britney spanks them with a riding crop.
While we didn't see any photos of that particular moment, Britney did tweet, "Can we all give a round of applause to @NicoleRichie for playing along in the show tonight? U looked hot crawling on all fours ;)." She also tweeted directly to Nicole, "Thanks for dancing tonight!"
Nicole posted three photos on Instagram of her time with Brit: she's seen hugging Britney, posing with her backstage and accepting a Britney tee-shirt on stage.
Copyright 2014 ABC News Radio