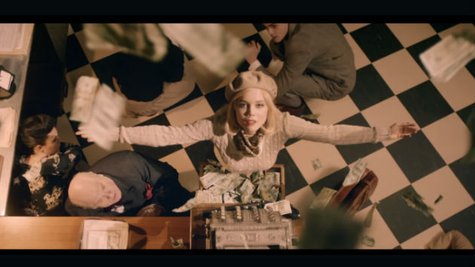 There was nothing controversial about Avicii 's videos for the hits "Wake Me Up" and "Hey Brother," but the Swedish DJ's new video, for the single " Addicted to You, " should certainly raise some eyebrows. It features same-sex kisses, bare butts and a suicide bombing.
Set in the 1930s, the clip is a spin on Bonnie & Clyde , featuring a pair of outlaw lovers who start their crime spree by robbing a restaurant at gunpoint. These lovers, however, are both women, and after they pull off a second job, we see them cuddling together in bed in lacy lingerie, staring into each others' eyes while being watched by nude men; we see their bare bottoms.
When the pair rob a bank, however, things go very wrong. They show up, make everyone get on the floor and attach a bomb to the bank's safe. They celebrate by smooching each other while standing on one of the banks' desks, but then, the cops show up. A sniper shoots one of the women in the back, and she dies in her partner's arms.
Wiping away her tears, the surviving robber emerges from the bank, which the cops have surrounded, carrying a leather satchel. Suddenly, she starts running towards them, and we realize she's taken the bomb off the safe and placed it in the satchel. She blows up herself, the cops and the bank, all in one fell swoop.
"Addicted to You" appears on Avicii's album True. It features vocals by Audra Mae , a singer who happens to be the great-great-niece of the late Judy Garland .
Copyright 2014 ABC News Radio