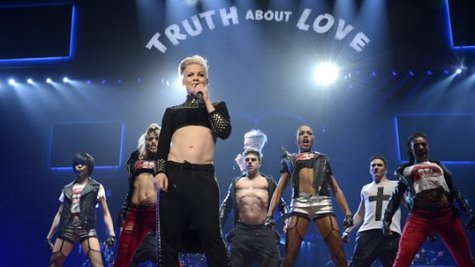 Pink is outspoken about causes she believes in, and now she's speaking out about a very important one: violence against women and girls.
The singer has lent her voice -- and her feet -- to One Billion Rising, a campaign that seeks to end violence against women and girls. Everyone who participates takes a pledge to do one thing in the next year to help achieve that goal. As part of her involvement, she's made a video that features her and her dancers performing choreography to "Break the Chain," the movement's theme song, on the stage set of her Truth About Love tour.
In a statement, Pink says, "I have never liked bullies of any kind...the bully is the problem. The bully needs a hug, a lesson, enlightenment. The bully is the one that really feels inferior, so he/she picks on someone else to make that person feel inferior too."
"When I read about this organization, how people get together of their own free will and dance, use their bodies, to express their rage -- outrage -- around the injustice that women feel all over the world, every day -- I was inspired," Pink continues. "We are all equally deserving of respect and personal space. I will fight for that right for all of us. And we come together to do so on our stage, with our brothers and menfolk-- where we express our freedom every night. And that freedom inspires others to be free."
"We hope this video helps. And we hope for that one day when all women and girls are able to have respect, and personal space, and to be able to express themselves in whatever way THEY feel is right for them," Pink concludes.
The organization says, "One in three women on the planet will be raped or beaten in her lifetime. One billion women violated is an atrocity. One billion women dancing is a revolution."
One Billion Rising's big global event, 1 Billion Rising for Justice, takes place on Friday, Valentine's Day. Visit Facebook.com/VDay for more information, or go to OneBillionRising.org .
Copyright 2014 ABC News Radio