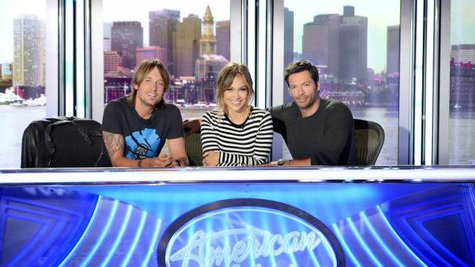 American Idol all but set its top 30 on Thursday night. The final spot has yet to be determined; the show is turning to its viewers to decide between Ben Briley and Neco Starr .
The Hollywood round ended with Ben and Neco as the final contestants to meet with judges Jennifer Lopez , Harry Connick , Jr. and Keith Urban , to learn whether they would advance to next week's live shows. Keith confessed that the panel couldn't pick between the two because they are so different. J-Lo then told the duo the judges were leaving it to America to decide who belongs in the top 15 boys group.
Fans can vote for either man on AmericanIdol.com , via the American Idol app, by text message or by phone. More info is available on the show's official website.
Here's a rundown of what else happened on Thursday night's one-hour episode:

The show picked up where the previous episode left off, with Casey Thrasher and C.J. Harris awaiting their fate after their sing-off. First, Casey was told he was moving on. C.J. was then strung along a bit by the judges before he was informed that he will also return.
Marrialle Sellars , who sang Miley Cyrus ' "Wrecking Ball" in the solo portion of the Hollywood round, was passed through.
Jena Ascuitto made it to the top 15 girls. Caleb Johnson and Ethan Harris were included in the boys' group.
Sarina Joi Crowe , Nalani Quintello and David Oliver Willis were dismissed, but Majesty Rose York advanced.
Briston Maroney , a 15-year-old from Tennessee, listened as Harry recalled how, when he was a teen, he wanted to leave his native New Orleans for New York to pursue his career, but his dad wouldn't let him. He playfully wondered whether Briston deserved such a chance, then gave it to him.
Brandy Neelly and Briana Oakley were both told they will be back.
An emotional Kenzie Hall , who performed an acoustic version of the Macklemore & Ryan Lewis song "Can't Hold Us" during the Hollywood round, made the cut.
Savion Wright was disappointed when the judges told him he would not continue in the competition, but he received words of encouragement from Keith.
With one last spot in the top 15 girls on the line, Sandie Lee and Austin Wolfe were brought to the judges' room. Austin earned that spot, while the judges said goodbye to Sandie.
Next week on Fox, American Idol will air on three nights for "Rush Week." Former judge Randy Jackson will return as a mentor, enlisting the help of ex-contestants Adam Lambert and Chris Daughtry .
On Tuesday night, the top 15 girls will perform live. The following night, it will be the guys' turn. The first results show of the season will air next Thursday night. Ten contestants will move on via the viewers' votes, and the judges will add three wild cards.
Here's who's left in the competition:
Top 15 Boys
Ben Briley or Neco Starr (to be determined)
Spencer Lloyd
George Lovett
Sam Woolf
Maurice Townsend
Dexter Roberts
Emmanuel Zidor
Jordan Brisbane
Malcolm Allen
Alex Preston
Casey Thrasher
C.J. Harris
Caleb Johnson
Ethan Harris
Briston Maroney

Top 15 Girls
MK Nobilette
Emily Piriz
Jillian Jensen
Malaya Watson
Bria Anai
Jessica Meuse
Kristen O'Connor
Andrina Brogden
Marrialle Sellars
Jena Ascuitto
Majesty Rose York
Brandy Neelly
Briana Oakley
Kenzie Hall
Austin Wolfe
Copyright 2014 ABC News Radio