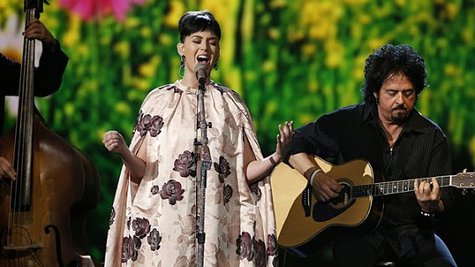 If you missed the star-studded CBS Beatles tribute that aired on Sunday night because you were watching The Walking Dead or The Olympics, we've got good news for you: you'll be able to catch it again this week.
The Beatles: The Night That Changed America – A Grammy Salute will re-air Wednesday night from 8:30 p.m. to 11 p.m. ET/PT. Produced to mark the 50th anniversary of the Beatles' first appearance on the legendary Ed Sullivan Show variety program, it features acts like Katy Perry , Maroon 5 , Ed Sheeran , John Mayer , Imagine Dragons , Keith Urban , Alicia Keys , John Legend , Stevie Wonder , Pharrell Williams and Eurythmics all performing songs made famous by the Fab Four.
The special also features an onstage reunion of the two surviving Beatles -- Paul McCartney and Ringo Star r -- who thrilled the audience with a performance of "With a Little Help from My Friends" before bringing the entire lineup on stage for a big finale performance of "Hey Jude."
Unfortunately, we're told that there are currently no plans to release any of these once-in-a-lifetime performances as digital downloads.
Copyright 2014 ABC News Radio