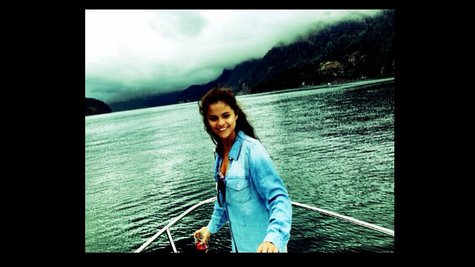 Ever since it was discovered that Selena Gomez visited an Arizona treatment facility last month, the singer hasn't commented, despite the rumors regarding what sent her there, how long she stayed, and why she left. Selena still hasn't said anything about that, but she's broken her silence to thank fans for their support.
In a post on Twitter and Instagram , Selena writes, " I've done everything I could to the best of my ability. Thank you for the unconditional love and cyber hugs. You inspire me. " She's included a photo of herself smiling while standing on the prow of a boat on a lake at an undisclosed location.
Selena entered Dawn at the Meadows, a facility in Arizona, on January 5, then left January 20 to attend the Sundance Film Festival in Utah. She's since been seen at a number of industry events. Her spokesperson told ABC News Radio, "Selena voluntarily spent time at Meadows but not for substance abuse."
Selena's BFF, Demi Lovato , who's been in rehab for substance abuse and emotional issues, intimated on Twitter that she supported Selena's decision to seek help, and recently told E!, "That's all of her business, and I just want to let her do her thing. And yeah, she's amazing. I love her."
Copyright 2014 ABC News Radio