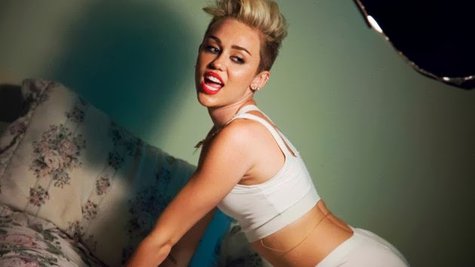 Last year, Miley Cyrus was #1 on Maxim magazine's Hot 100 list of the hottest females. But on a similar list of the "100 Most Desirable Women" just released by AskMen.com , she's at #99. Why would Miley rank so low? Surely all that nudity is worth something, right? Well, apparently, that ranking wasn't entirely based on merit: the website put her there for a reason.
In a statement, AskMen publisher James Bassil explains , "The final Top 99 list is the product of both reader and staff votes, but if it were up to the staff alone I don't think we'd be seeing Miley Cyrus on it. AskMen reader votes secured her a spot, but we remain skeptical about some of her recent behavior...at the moment No. 99 seems to be the right spot for her."
Explaining why Miley is desirable in the first place, the website writes, "She's become a boundary-pushing superstar whose music comes second to her brand. Sure, her act may be carefully designed to garner attention, but we're still looking forward to seeing what stunts she pulls this year."
Of course, Miley isn't the only pop star featured on the list. Here's a roundup of the others:
#90: Katy Perry
AskMen.com says: "Perry, who rocks a revealing bikini top on the cover [of GQ's February issue], is riding high off her 2013 album, Prism , and its inescapable hit single, Roar . That means we'll be seeing much more of her ample curves in photo spreads to come."
#89: Selena Gomez
AskMen.com says: "Until recently, most men didn't pay too much attention to Selena Gomez. Sure, we knew her as the cute girl tweens like to listen to, and, of course, as the girlfriend of Bieber. But Spring Breakers opened all of our eyes. A movie in which the leads spend most of the running time in bikinis will do that to you."
#73: Ariana Grande
AskMen.com says: "Forget Miley with her publicity plays -- Ariana Grande is the real pop star of the moment...Yes, her music may be geared to tweens, but Ariana has looks that will disarm any man."
#30: Taylor Swift
AskMen.com says: "Taylor Swift's love life seems to be everyone's business, but we don't care whose bed her boots have been under -- she's still America's sweetheart."
#19: Rihanna
AskMen.com says: "...The Barbadian superstar...has been named the sexiest woman alive by more than one men's magazine. Also notable: she can twerk upside down (see the "Pour It Up" video for proof)."
#11: Beyonce
AskMen.com says: "In 2013, Beyoncé officially transcended pop stardom to become something akin to royalty...[she] convinced us for the umpteenth time of her general unattainable perfection. We've got to hand it to Jay Z -- we'd feel insufficient in her presence."
So who's #1 on AskMen.com's list? Game of Thrones star Emilia Clarke , who plays the sometimes topless Daenerys Targaryen, aka the Mother of Dragons.
Copyright 2014 ABC News Radio