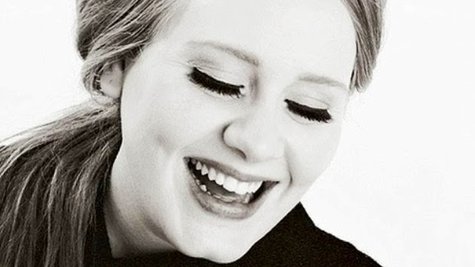 Other than showing up at awards ceremonies to collect an Oscar, a Grammy and a Golden Globe, Adele didn't do much in the way of her music career in 2013, but that doesn't seem to have affected her earning power. According to one report, she raked in nearly 50 million bucks without having to tour, record or release any new music.
The British paper the Daily Mail reports that Adele took in 30 million pounds -- that's more than $49 million dollars -- in 2013, just in royalties from her best-selling album, 21 . The newspaper is basing that figure on an examination of the accounts of the singer's companies, Melted Stone and Melted Stone Publishing, which receive the money from sales of her albums, and from the sales of sheet music of her songs. The paper says that Adele basically earns more than 50 thousand dollars a day from those royalties.
As for why she's still raking in so much money from an album that came out in 2011, the newspaper says it's not only because the album continues to sell, but because there's a time delay associated with royalty payments in general.
21 has sold more than 26 million copies worldwide since its release. Adele is said to be working on material for a new album, and collaborating with producers and songwriters who include OneRepublic 's Ryan Tedder , Phil Collins , Diane Warren , and William Orbit . When Ryan was asked recently on Twitter how Adele's new music is sounding, he replied , "AMAZING! very 'Adele-ish.'"
Copyright 2014 ABC News Radio