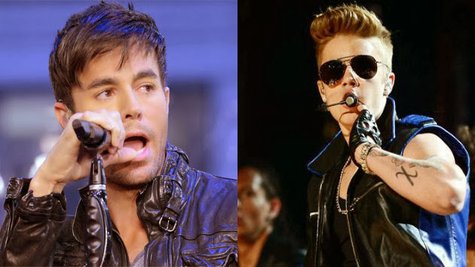 Enrique Iglesias knows a thing or two about being young in the music business and about growing up in the spotlight: the son of internationally famous singer Julio Iglesias , he released his first album when he was just 20. So that's why Enrique is willing to cut 19-year-old Justin Bieber some slack when it comes to his recent troubles.
Justin is currently facing DUI charges in Miami and assault charges in Toronto, and is also suspected of vandalism in California. But Enrique tells the British paper The Mirror, "[He's] having a fun time. I don't think he's having a hard time at all...He's under a microscope, he got caught. He's smoking weed -- is that a big deal? He's 19. It's a mistake you make as a teenager."
However, Enrique says that Justin would do well to surround himself with people who aren't just "yes-men."
"It's common in this business that there are just 'yes, yes' people and you need people that are not afraid of telling you 'no.' You need to be told you made a mistake. That's crucial," says Enrique. "You can't believe your own hype because in show business there are moments where that can happen."
Enrique is set to release his new album, Sex + Love , on March 18. His new single, "I'm a Freak," featuring Pitbull , boasts a video that features him cavorting with scantily-clad women. But he says his girlfriend, Anna Kournikova , doesn't mind at all.
"She loves this video and it's because she knows me and she knows if it's fun and it feels real, then it's right," he tells the Mirror . "She will be the first one to say, 'No, that feels forced'. I think it's OK to be sexual as long as it's honest. People know if it's honest or not. It really isn't about the 'wow' factor or trying to shock."
Copyright 2014 ABC News Radio