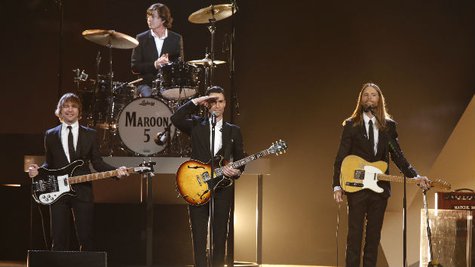 Sunday night, February 9, marks the 50th anniversary of the Beatles' legendary first appearance on The Ed Sullivan Show. That moment will be celebrated with The Beatles: The Night That Changed America -- A Grammy Salute, airing Sunday night at the same time -- 8 p.m. -- and on the same network -- CBS -- that aired the original performance.
The special features both veteran artists and today's stars artists singing Beatles classics, and among the big names you'll be seeing are Katy Perry , Maroon 5 , Alicia Keys , John Mayer , Ed Sheeran , Stevie Wonder , Imagine Dragons and '80s music icons Eurythmics , who reunited for this show.
The show's executive producer, Ken Ehrlich , says that in some cases, he chose the song for the artists to do, and in other cases, the artist insisted on a particular tune. Take Katy Perry, for example -- she only wanted one song: "Yesterday," one of the Beatles' signature hits.
"She had her heart set on it, right from the beginning," Ehrlich tells ABC News Radio. "I went to see her last fall -- she had a show at the Hollywood Bowl -- and I approached her and, and asked her about doing the show and, within thirty seconds, she said, 'Yeah, I'll do it if I can do 'Yesterday.' And she does a great job of it, she really does."
During the show, John Mayer and Keith Urban 's duet on the lesser-known Beatles song "Don't Let Me Down." Ehrlich says the two guitarists came up with that idea last year for another event. "I had seen them do 'Don't Let Me Down' at the Eric Clapton Crossroads show last fall at the Garden in New York, and it was really amazing, with some blazing guitar solos. So I thought that would be great," he recalls.
Eurythmics, made up of Annie Lennox and Dave Stewart , chose to do the Beatles song "The Fool on the Hill" themselves, Ehrlich says, adding, "It's such a gorgeous song, and the way they've interpreted it is beautiful."
Alicia Keys' contribution, however, was Ehrlich's idea. "I went to Alicia Keys and John Legend and asked them if they would do 'Let It Be,' 'cause I thought it could really be soulful and beautiful," he explains. Another standout performance is Ed Sheeran singing the song "In My Life." Ehrlich calls Ed "engaging" and "a hell of a guitar player," and said his performance of the nostalgic ballad is "very evocative" and "emotional."
Imagine Dragons is also on the bill, but Ehrlich said he only asked them after getting to know them at this year's Grammy Awards, which he also produced. He says they perform an "unplugged" version of one of the Beatles' more rocking numbers, "Revolution," adding, "They really capture it. Their harmonies are great."
Maroon 5 will be seen twice: once performing "Ticket to Ride," and at another point where Ehrlich hints they may be cut together with footage of the Beatles during the 1964 Ed Sullivan performance, singing "All My Loving."
The most important performance of the night, though, is by the surviving Beatles: Paul McCartney and Ringo Starr . Ehrlich says initially, they weren't sure they wanted to be involved with the special. One reason, he says, is that celebrating the 50th anniversary of something makes you seem old, and Paul and Ringo want to still be seen as vital touring musicians. But, says Ehrlich, "once they came around and embraced the idea of it, they just got into it."
Since the Beatles broke up, Paul and Ringo have rarely performed Beatles songs together, and certainly not on TV, so Ehrlich says it was a real treat for the audience at the taping, which took place the day after the Grammys, to get to witness the mini-reunion.
"Everybody was kind of expecting it," Ehrlich said of Paul and Ringo's performance of a few Beatles' classics. "I mean, there are no secrets left in the entertainment industry anymore, but I don't think that, as anticipated as it was, that they even had a clue as to how really electric it was when the two of them got together. It's really something."
In addition to all the performances, The Beatles: The Night That Changed America -- A Grammy Salute will also feature an historical look back on the original Sullivan performance, through archival footage and new interviews.
Though at that point the Beatles had already scored their first #1 hit in the U.S., nobody in America had really ever seen them perform live before, so more than 70 million viewers tuned into the show to see what all the fuss was about. It's considered a watershed moment in pop culture, and countless rock stars have said that watching the show that night inspired them to make careers for themselves in music.
Copyright 2014 ABC News Radio