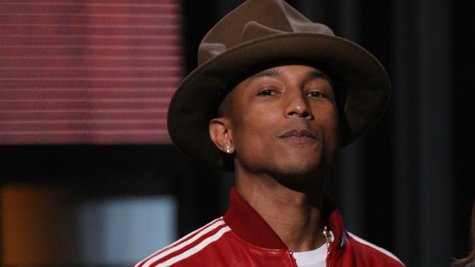 Pharrell Williams' career couldn't be hotter, thanks to "Blurred Lines," "Get Lucky" and "Happy," and that means he can write his own ticket in terms of who he wants to work with next. It turns out one of the people on the top of the list is none other than music legend Elton John .
"I really respect Elton John's music, and I'd love to do something with him," Pharrell tells the BBC . In fact, the singer's admiration for Elton is so great that he named his son Rocket after one of Elton's most famous songs: "Rocket Man."
"Contrary to popular belief, Rocket's middle name is not Man," Pharrell says of his son, who's five years old. "But Elton John's 'Rocket Man' song was a part of it, and also Stevie Wonder 's 'Rocket Love.' But [working with] Elton would be really interesting."
Pharrell performed on stage with Stevie Wonder and Daft Punk last month at the Grammys, and while he says that doing an entire album with Stevie would be "amazing," he adds, "He doesn't need me." He says the performance at the Grammys with the music legend, though, was surreal.
"I couldn't believe I was on stage [with him]," gushes Pharrell. "I remember listening to all his songs for the first time in my grandmother's apartment, and then to be on stage in L.A. with Stevie, that was like, 'Where am I? What's going on? Just don't wake me up!'"
Another unbelievable moment will come next month, when Pharrell performs his hit "Happy" at the Academy Awards ceremony, where it's up for the Best Original Song Oscar. "I'm in disbelief. I can't believe that. All of this is an amazing moment and I just intend on showing the people my thanks," he says.
Copyright 2014 ABC News Radio