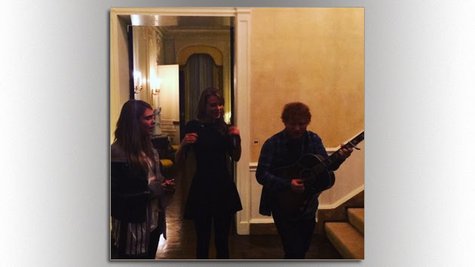 Even when she's not on stage, Taylor Swift just can't help singing with her pal Ed Sheeran .
Taylor has posted on Instagram a video capturing her, Ed and British fashion model Cara Delevingne all singing together in the home of a U.S. ambassador -- we assume it's the ambassador to London because that's where Taylor's been performing over the last few days, and both Ed and Cara live in the U.K. No word on why they were there, though it looks like a pretty nice place.
In the video, all three stand at the bottom of a staircase and harmonize on the song " Heartbeats ," by The Knife , a Swedish electronic duo. " Me, Ed, Cara. Singing songs in the US ambassador's house. What is life," Taylor writes in the caption.
This week, Ed also used Instagram to treat fans to some music -- in this case, a brief clip of a song from his upcoming album.
Copyright 2014 ABC News Radio