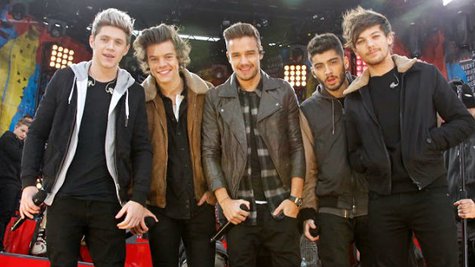 We're sure Lorde didn't get free year's supply of Cristal or Grey Goose after mentioning those brands in the lyrics of "Royals." But One Direction has managed to wangle a year's worth of free cab rides out of a British company after name-checking them in the lyrics of one of their tunes.
In the song " Midnight Memories ," the boys sing about there being "way too many people in the Addison Lee," and point to a car with that name written on the back. Addison Lee provides private vehicle rentals as well as minicab services: in the U.K., a minicab is a taxi that's pre-booked, rather than one you flag down on the street.
1D's Louis Tomlinson tweeted to the company, "Surely we get some kind of @AddisonLeeCabs gold card for the name drop haha !!??" The company responded , "Best name drop ever! We'll be in touch with a thankyou." Then, they came back with a joke, writing , "did you say gold car? We've got one here for you ready and waiting - give us a call when you need it." Below the tweet was posted a photo of gold-plated taxi. Then, the company added , "Joking aside @Louis_Tomlinson how about a free car for a year?"
A spokesperson for the company subsequently told the British paper The Daily Mail , " One Direction have been Addison Lee customers since they were on the X Factor, so we were delighted to be mentioned in 'Midnight Memories.' It came completely out of the blue. As a thank you we have offered the band free cabs for a year."
Copyright 2014 ABC News Radio