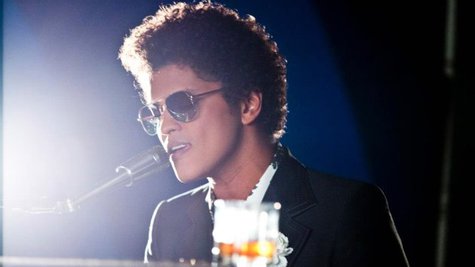 Bruno Mars ' Super Bowl halftime performance didn't just boost the sales of his albums: it also gave some of his singles a shot in the arm.
Bruno has 10 of the top 200 digital songs of the past week. His halftime show opener, "Locked Out of Heaven," ranks #32 on Billboard 's digital songs chart. Its sales increased by 134 percent, having moved 54 thousand copies. "Young Girls," which was left off his set list, reached #41, while "Just the Way You Are," which closed his performance, hit #47.
The other two songs he sang at the big game last Sunday, "Treasure" and "Runaway Baby," also made the top 200.
As previously reported, Bruno's most recent album, Unorthodox Jukebox , jumped from #18 to #7 on the Billboard album chart after enjoying a 180-percent sales increase. His debut album, Doo-Wops and Hooligans , skyrocketed from #82 to #19 on the chart.
Copyright 2014 ABC News Radio