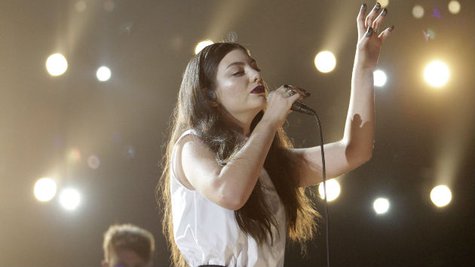 Lorde will be rubbing shoulders with royals of a different sort when she headlines this year's Infield Fest , a concert connected to the annual Preakness Stakes Thoroughbred horse racing event.
The president of the Maryland Jockey Club, which organizes the race and the festival, said in a statement, "Lorde's popularity is rising at a staggering rate...her appeal cuts across multiple fan demographics and reflects the cutting-edge talent fans have come to expect at InfieldFest."
The 139th running of the Preakness -- the first leg of racing's Triple Crown -- will take place May 17 at Pimlico Race Course in Baltimore, Maryland. The festival takes place the same day. Ticket information is available at Preakness.com, or by calling 877-206-8042.
In previous years, Infield Fest has been headlined by Train , Bruno Mars , Maroon 5 , Macklemore & Ryan Lewis , and country act Zac Brown Band .
In other Lorde news, a fellow musician from New Zealand who made it in America has some words of advice for the 17-year-old Grammy winner: consider moving somewhere else.
Neil Finn , who as a member of the '80s band Crowded House scored a massive hit in the U.S. with "Don't Dream It's Over," told the British paper The Guardian that Lorde's recent complaints about being harassed by the media when she came back home to New Zealand were well founded.
"Those news teams are idiots," he told the paper. "New Zealand had, up until that moment, been quite a good environment [for her] because people are not super celebrity-oriented, they pretty much leave you alone. But it keeps reaching this new critical mass and now with winning two Grammys, I think it's getting pretty intense."
"I'd think she might go well moving to New York or something, where there are more famous people and less bother about it," added Neil.
However, later, he retracted what he said by tweeting , "somehow a headline emerges from an offhand comment and I'm giving advice thats isn't needed. I should know better."
Copyright 2014 ABC News Radio