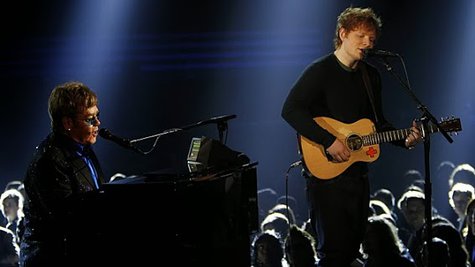 Last year, Ed Sheeran teamed up with Elton John to perform at the Grammy Awards. Now, Elton has invited Ed to be the special musical guest for his annual star-studded Oscar viewing party, which will be held March 2 at West Hollywood Park.
In a statement, Elton said, ""I am absolutely delighted to welcome Ed Sheeran to [our party]. I've been following his work closely ever since I heard his independent EP...He's an amazing artist, and I know our guests will be thrilled by his performance."
Elton's annual Oscar party raises funds for the Elton John AIDS Foundation. Over the more than two decades it's been around, it's raised nearly $40 million to support the Foundation's projects.
Saying he's "thrilled" by the invitation, Ed adds, "HIV/AIDS is a huge concern for all young people, and I'm delighted to do my part to raise funds for Elton's vision of a world without AIDS."
Ed is managed by Elton's company, Rocket Music. He'll also be contributing a cover version of Elton's classic "Candle in the Wind" to an upcoming deluxe repackaging of the rock legend's landmark 1973 disc, Goodbye Yellow Brick Road.
Copyright 2014 ABC News Radio