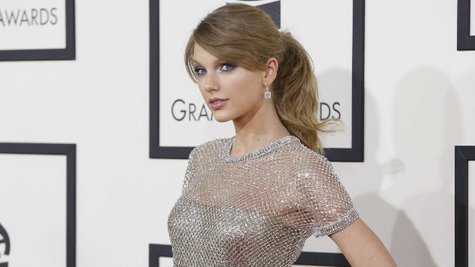 Since she broke up with One Direction 's Harry Styles in early 2013, Taylor Swift hasn't really dated anyone, but that hasn't stopped the media from linking her romantically with any man she's seen within 20 feet of. Now, the singer says categorically that not only doesn't she have a boyfriend, but her single status is "one of the best things" in her life.
Speaking to the Mail on Sunday 's Event magazine, Taylor says she knows that she's "p erceived to be constantly going out with people," but insists, "I'm just not. It's like, 'She's a hopeless romantic so she's a serial monogamist, always dating.' They look at me and think, 'Oh, she has to be in love or she's not happy.'" Taylor resents this implication, noting, "It is possible for a woman to be a romantic, but also to be single and to be happy."
"I am single," she tells the publication. "To be honest, being single is one of the best things about my life right now. And whatever people think, I actually love it. Life is so much more fun, and it's great not to have to worry about calling someone every night, just doing what you want to do, [like] hanging out with your friends."
And speaking of friends, Taylor's include many actresses, such as Lena Dunham , Hailee Steinfeld and Emma Stone . But it's a slightly older actress she says she looks to when she pictures her future: Julia Roberts .
Taylor says she sat near Roberts at the Golden Globes last month, and reveals, "We just started talking straight away. What struck me about her was not how beautiful she was but how youthful she was. She seemed younger than me and just extraordinary. She has a real grace."
"She is how I'd like to be," says Taylor. "I want to grow up with grace, to age gracefully and to love life. Julia was just so full of life."
Copyright 2014 ABC News Radio