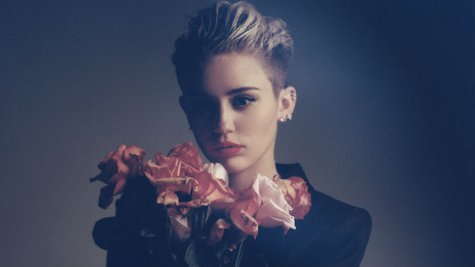 It had to happen: someone has made a video asking Miley Cyrus to go to prom with them. But this particular fan is really demonstrating his understanding of what Miley's all about by asking her while naked...except for a giant foam finger.
The fan, Phoenix, Arizona student Matt Peterson , notes in his video that he met Miley for the first time in 2009, when he was plucked from a group of fans in a parking lot and ushered inside a radio station to meet her. In his video, he's included footage of that encounter, as well as footage from her subsequent concert six months later when she spotted him in the audience and gave him a shout-out.
"As you can see, we've had some great memories together, but I'm ready to make some more," says Matt. "When your Bangerz tour comes to Phoenix, Arizona on February 27, I'm hoping that you'll have an answer to this very important question that I have to ask you."
He continues, "Miley, will you...." but then mutters, "This just doesn't feel right." He snaps his fingers, and suddenly, he's standing on a cliff, dressed in tux holding a rose. "This still doesn't feel right," he mutters. He snaps his fingers again, and he's standing in the same spot, except now he's naked, holding a bunch of roses and a giant foam finger over his private area. "Much better," he says. "Miley Cyrus, will you go to prom with me?"
"I promise you it'll be the best night of your life. And if you aren't the slow-dancing type, no worries, I go to public school and grinding is allowed!"
In the comments under the video, Matt says that his prom is on May 3. "I hope you will tell me yes when I'm sitting with roses in the 6th row at your BANGERZ tour in Phoenix on Febuary 27th!," he continues.
Copyright 2014 ABC News Radio