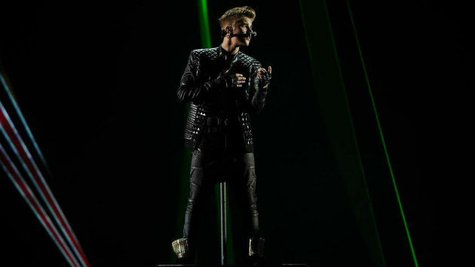 Finally, some good news for Justin Bieber : he can move on from a lawsuit filed against him by an ex-bodyguard who claimed he was attacked by the pop star in 2012. The two sides recently reached a settlement in the matter, according to The Hollywood Reporter .
Moshe Benabou alleged in his complaint that Justin unleashed a "tirade" upon him backstage at a concert in October of 2012 after the singer believed the plaintiff tried to keep one member of his entourage away from him. Justin allegedly punched Benabou repeatedly in the chest and upper body area before firing him.
Benabou, who filed his lawsuit in January of 2013, also claimed he was due overtime wages. A trial date had been set for later this month in Los Angeles. However, documents were filed last week to dismiss the complaint. The terms of the settlement have not been disclosed.
Justin still has plenty to worry about. During the past couple of weeks, he was arrested for alleged DUI and drag racing in Miami, and he turned himself in to Toronto police in connection with an alleged assault on a limo driver.
Copyright 2014 ABC News Radio