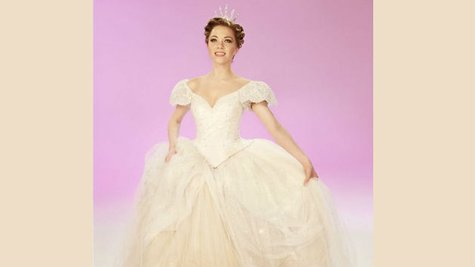 Get that glass slipper ready: Carly Rae Jepsen is making her Broadway debut on Tuesday, stepping into the lead role in the current New York City production of Rodgers & Hammerstein's Cinderella. The Canadian "Call Me Maybe" star says her gig allows her to check a major entry off her bucket list.
Carly tells ABC News Radio that she "squealed" when she got the phone call from her team, saying she'd been invited to audition for her first Broadway role. They weren't aware that she's had a "secret desire" to appear on the Great White Way for years.
"This fell in my lap, but I also feel like I somehow almost invented it because it's too good to be true," she tells ABC News Radio. "And I've been talking about it with friends and family members...ask anyone who knows me...when you play that game of 'What's three things you want to do before you die?,' I've always said, 'I just want to be in a Broadway show.'"
This current production of Cinderella is based on a 1957 television musical that starred Julie Andrews . Despite the fact that Carly is under the age of 30, she says she was familiar with the songs. "My stepmother Patty, she actually designed her wedding dress after the Cinderella bridal gown," explains Carly. "So I grew up hearing her sing 'In My Own Little Corner' and all those things...it really was something I grew up on."
Of course, this Cinderella has now been updated for the modern age, so girls of today can see her as a role model. "I think that this story is not just about a girl who tries on a pretty dress and goes to the ball and meets a handsome prince, and that's the end," explains Carly. "It's about a woman who really wants to change the world and has this vision for how things can be different. And she really preaches kindness and she really practices kindness. It's truly kind of inspiring to see someone who is that innately good."
And of course, where there's good, there is evil. The part of the Wicked Stepmother in the show will be played by The Nanny star Fran Drescher , who Carly calls "fantastic" -- and convincing, to boot. "If you talk to her she's charming and you love her, but if she switches into that character -- the evil stepmother -- I immediately start shaking. She's just so intimidating," laughs Carly.
Also intimidating for Carly: learning to sing all the songs. You'd think that someone who sings for a living wouldn't have an issue with that, but Carly says, "Actually, weirdly, the singing is the challenge for me. Cinderella's role is actually quite a high soprano and I'm naturally an alto. So for me it's just a challenge sometimes with some of the higher notes."
In addition, Carly says she's "trying not to 'poppify' the role too much." As she explains, "I've been spending the last two years out on the road singing pop music, whereas this, you kinda need to make it more 'princessy.'"
But no matter how well she knows her songs, lines and choreography, Carly says she won't be able to avoid opening-night butterflies. Above all, she says, she wants people to think of the show as more than just one that happens to star that "Call Me Maybe" chick.
"I mean the truth of it is I'm going to be very nervous because I do want to pull it off," she tells ABC News Radio. "And I do want the people that come to be lost in the story and to enjoy their night and to not think of who's playing the character so much but just more get sucked into how beautiful of a fantasy it is."

For tickets and information, visit CinderellaonBroadway.com.
Copyright 2014 ABC News Radio