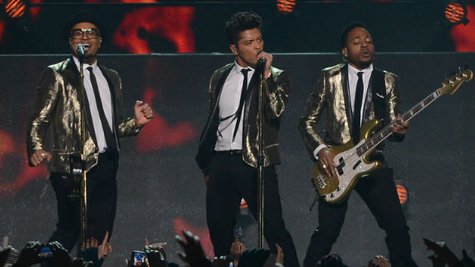 Sorry, Madonna , but Bruno Mars has smashed your record.
The Queen of Pop's 2011 Super Bowl halftime show had previously set an all-time viewing record of 114 million, but Bruno's show on Sunday, which also featured the Red Hot Chili Peppers , has bested it. 115.3 million viewers -- more than turned into the actual game itself -- caught the half time show.
By comparison, Beyonce 's halftime show last year drew only 110.8 million viewers.
As for why so many people tuned in to see Bruno, it could've been overall interest in the first Super Bowl game ever played in an outdoor, cold-weather location: perhaps folks wanted to see if he'd be singing in a blizzard. Another possible reason: unlike many artists who perform on the Super Bowl, Bruno's career is currently red-hot, with a string of chart-topping singles, a sold-out tour, a best-selling album and yet another Grammy.
Overall, Sunday's Super Bowl attracted 111.5 million viewers on average, making it the most-watched event in TV history.
Copyright 2014 ABC News Radio