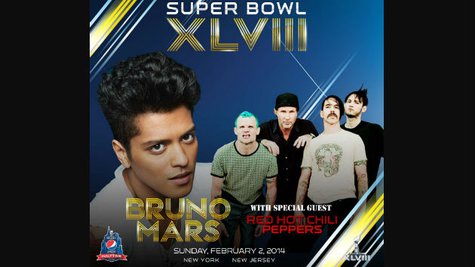 The Super Bowl halftime show normally features the biggest names in music, who are usually veteran performers. This year, however, marks the first time in a decade that a performer under the age of 30 will headline the event: Bruno Mars.
In the years following Janet Jackson's notorious "wardrobe malfunction" scandal of 2004, Super Bowl organizers turned to classic rock acts like Paul McCartney , Bruce Springsteen , the Rolling Stones , the Who and Tom Petty , since they were considered to be "safe" and less controversial. Contemporary pop returned to the scene in 2011, when the Black Eyed Peas took the stage; no Fergie -related wardrobe malfunctions ensued.
The NFL took a risk in 2012 with one of pop music's most controversial stars -- Madonna -- but the only controversy that emerged from that came courtesy of one of her invited guests, M.I.A. , who flipped the bird during the performance. That halftime show is still the most-viewed in history. Last year, another current performer, Beyonce , delivered a widely-acclaimed performance, though some felt her outfit and her gyrations were a bit racy. Prior to the Super Bowl, she held a press conference to address the the lip-syncing controversy resulting from her performance at President Obama's inauguration, which was still hanging over her head.
Bruno's not controversial at all, though some have wondered if he's a big enough star to appeal to the Super Bowl's broad audience. That's one reason, some pundits say, that the Red Hot Chili Peppers have been added to the bill: they appeal to an older crowd, though they're not without controversy, having made headlines early in their career for performing naked except for some strategically-placed socks.
Believe it or not, the trend of having major pop, rock and country music stars appear at the Super Bowl halftime show only dates back to 1991, when New Kids on the Block performed. Before that, the halftime show usually consisted of marching bands, older stars like Chubby Checker and Ella Fitzgerald , or the G-rated vocal troupe Up with People . But after '91, it was all stars, all the time. Here's a reminder of who's played Super Bowl halftime shows since then:
1991 -- New Kids on the Block
1992 -- Gloria Estefan
1993 -- Michael Jackson, performing with 3,500 children
1994 -- Country stars Clint Black, Tanya Tucker, Travis Tritt, Wynonna and Naomi Judd
1995 -- Patti Labelle, Miami Sound Machine & Tony Bennett
1996 -- Diana Ross
1997 -- ZZ Top, James Brown, the Blues Brothers featuring Dan Aykroyd, John Goodman and James Belushi
1998 -- Boyz II Men, Smokey Robinson, Martha Reeves, the Temptations, Queen Latifah
1999 -- Stevie Wonder, Gloria Estefan, Big Bad Voodoo Daddy
2000 -- Phil Collins, Christina Aguilera, Enrique Iglesias, Toni Braxton
2001 -- Aerosmith, 'N Sync, Britney Spears, Nelly, Mary J. Blige
2002 -- U2
2003 -- Shania Twain, No Doubt, Sting
2004 -- Janet Jackson, Justin Timberlake, Nelly, Kid Rock, P. Diddy
2005 -- Paul McCartney
2006 -- The Rolling Stones
2007 -- Prince
2008 -- Tom Petty & The Heartbreakers
2009 -- Bruce Springsteen & The E Street Band
2010 -- The Who
2011 -- Black Eyed Peas
2012 -- Madonna
2013 -- Beyonce (and Destiny's Child, briefly)
2014 -- Bruno Mars feat. Red Hot Chili Peppers
Copyright 2014 ABC News Radio