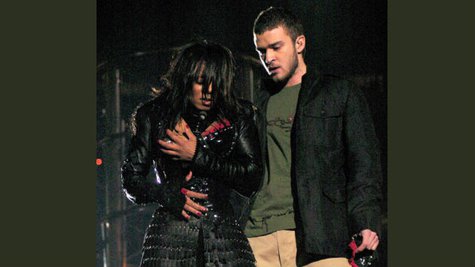 "I'll have you naked by the end of this song," sang Justin Timberlake to Janet Jackson while onstage at the Super Bowl on February 1, 2004. What happened next pretty much changed everything.
Unless you've been living in a cave, you know that Justin then reached across Janet Jackson's chest and ripped off a part of her costume, exposing her bare breast, with only her nipple covered by a piece of jewelry. MTV, which was producing the halftime show that year, had no idea it was coming, but whether Justin or Janet knew is still a point of contention.
Of course, that moment prompted reactions from enjoyment to outrage, and even an FCC investigation. The website Gawker has an in-depth, blow-by-blow examination of the fallout from the event.
As the website notes, Janet's spokesperson initially stated that Justin was supposed to "peel away" Janet's bustier to reveal "a red lace bra," but then claimed, "the garment collapsed." That night, Justin said, "I am sorry if anyone was offended by the wardrobe malfunction during the halftime performance at the Super Bowl. It was not intentional and is regrettable." A few days later, he pronounced himself "shocked and appalled" by the stunt.
Gawker then notes that the blame mostly shifted to Janet, who immediately after the Super Bowl issued a video statement in which she said, "My decision to change the Super Bowl performance was actually made after the final rehearsal. MTV, CBS, the NFL had no knowledge of this whatsoever, and unfortunately, the whole thing went wrong in the end. I am really sorry if I offended anyone. That was truly not my intention."
By referring to the incident as "my decision," Janet essentially took responsibility for it, though Justin was arguably equally complicit. However, Janet was the one who endured most of the fallout. Gawker points out that a week later, Justin showed up at the Grammy Awards, but Janet had been essentially been dis-invited. While accepting an award, Justin said, "Listen, I know it's been a rough week on everybody. What occurred was unintentional, completely regrettable, and I apologize if you guys were offended."
Two years later, in 2006, Gawker reports Janet told Oprah Winfrey that by not coming to her defense, Justin had thrown her under the bus "to a certain degree." She also said that the incident was "an accident," and that she was now sorry that she apologized for it, but that her management at the time thought it was "important." "They wanted me to say that, so I did," she said.
For his part, according to Gawker, Justin told MTV in 2007 that he "could've handled" the situation better, adding, "If there was something I could have done in [Janet's] defense that was more than I realized then, I would have...I probably got 10 percent of the blame, and that says something about society. I think that America's harsher on women. And I think that America is, you know, unfairly harsh on ethnic people."
So what was the ultimate fallout? Well, anything on broadcast TV that could potentially be considered racy suddenly came under far more scrutiny than normal. CBS, which was ultimately fined $550,000 by the FCC for airing the incident, put a delay on the Grammy Awards that year, and the Victoria's Secret Fashion Show was canceled. Additionally, some shows that had planned to include sex scenes decided to clean them up. And for the next seven years, the only artists who performed on the Super Bowl were seasoned, "safe" veterans, like Paul McCartney and Tom Petty .
Meanwhile, Justin Timberlake's career has exploded, while Janet Jackson's has never fully recovered from the incident. While her next album, Damita Jo, released that same year, did OK, the next two were disappointments. Since "Nipplegate," she has yet to return to the top 10.
The most interesting result of the incident, though, may have been the creation of YouTube. Gawker notes that according to one of its inventors, he was inspired to start the website because after Nipplegate, he couldn't find the video clip online.
Copyright 2014 ABC News Radio