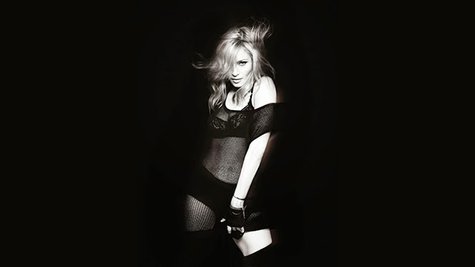 Madonna 's written plenty of material for her new album, but according to a British tabloid report, two songs in particular -- which may or may not make the final cut -- appear to be vicious take downs aimed at both Lady Gaga and her ex-husband, Guy Ritchie .
According to the British tabloid The Sun , which got a look at the lyrics to a song called "Heartbreak City," Madonna sings -- allegedly about Guy -- "You said I was your queen/I tried to give you everything and now you want your freedom/You got just what you came for/a bit of fame and fortune and I'm no longer needed." She also supposedly sings, "You tore me into pieces/You didn't have no damn reason" and "I curse the day we met/This memory is haunting me/I wish I could forget."
Of course, these lines, if legit, could be about conceivably anyone in the past thirty years who Madonna feels has taken unfair advantage of her, or treated her badly, or used her for her fame and money.
However, the lyrics of another song, "Two Steps Behind Me," if legit, seem specifically aimed at Lady Gaga.
In that track, according to The Sun, Madonna sings, "You're a copycat, Where is my royalty?/You're a pretty girl, I'll give you that/But stealing my recipe, it's an ugly look/Did you study me hard enough? You're never gonna be, you're just a wannabe me."
The lyric add, "In your fantasy, you can try it all. But you can't be me/You can walk the walk, even talk the talk. But you'll always be two steps behind me."
While in the past, Madonna and Gaga seemed friendly, even appearing on Saturday Night Live together, the Queen of Pop was dismissive of Gaga's hit "Born This Way," which she considered to be a ripoff of her own hit "Express Yourself." To illustrate that point, she performed the two songs as a mash-up every night on her MDNA tour.
Follow --ABCNewsRadio
Copyright 2014 ABC News Radio