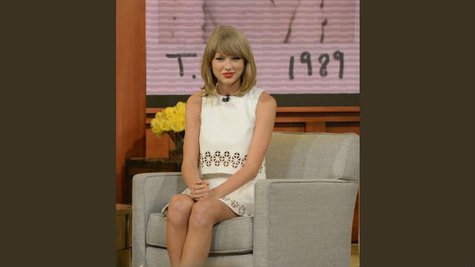 Taylor Swift 's new #1 hit "Shake It Off" is an invitation to do your own thing and not worry about fitting in or looking cool. Easier said then done, right? Well, as Taylor explains in a newly released outtake from the song's video, even she doesn't feel cool, and she's a massive superstar.
"A lot of people who I think will relate to the song are people who are dealing with not ever really feeling cool with themselves because other people make them feel like they don't fit in," Taylor says. "When, one thing I've learned in this whole process is, you can get everything you want in life without ever feeling like you fit in."
"Like, selling millions of records doesn't make me feel cool," she insists. "It makes me feel proud, and like I have a lot of people on my side and I worked really hard, but I don't think it's the most important thing in life to fit in."
OK, Taylor, so what is the most important thing in life?
"To dance to the beat of your own drum," she says. "And to look like you're having more fun than the people who look cool [and] like they fit in!"
In the outtake, you can see Taylor filming the "cheerleader" section of the video, and explaining that she trained for the grueling three-day shoot by running non-stop -- "which I hate," she adds -- to build up her cardio. No wonder she was photographed all summer coming out of the gym.
Follow --ABCNewsRadio
Copyright 2014 ABC News Radio