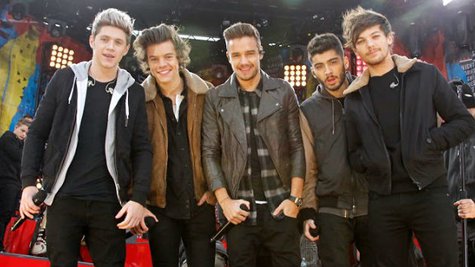 One Direction is currently out on their Where We Are Tour, but they're also working on their fourth album. How's it coming along? Well, according to someone who should know -- their label boss, Simon Cowell -- it's pretty awesome.
"The album's fantastic," Simon told London's Capital FM radio . "There's probably five or six tracks I've already heard that could be singles. There's some very different kinds of songs than what we've done before, they've taken a few more risks."
"Most importantly, the boys love writing, they love recording, they're enjoying what they're doing," he adds. Cowell then referred to the fact that he was recently quoted -- incorrectly, it seems -- as predicting that the group would split up in a couple of years.
"I went on Twitter recently to say I don't think they're going to split up, they're having too good a time!" he told Capital FM. "I think they could be doing this for five, ten, twenty years if they wanted to!"
In the tweet he was referring to, Cowell wrote, "Just to clear up the rumors it is my guess and my hope One D will stay together for a very long time...The boys are having the best time...their new album is really really good."
Follow --ABCNewsRadio
Copyright 2014 ABC News Radio