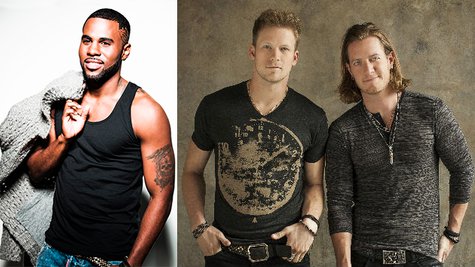 After scoring a massive hit by teaming up with Nelly on "Cruise," country duo Florida Georgia Line have returned to the pop charts again, thanks to a collaboration with Jason Derulo on a remix of their song " This Is How We Roll. " But the guys say they weren't put together with Jason; the whole thing happened organically.
"I think it just kinda came up and he said he was a fan of that song and wanted to do a remix with us," says Florida Georgia Line's Tyler Hubbard . "And we've been big fans of him for a long time. So it's really cool. Sometimes that's kinda how those collaborations work, you know. You don't really go looking or hunting or digging to try to find somebody to do something with. It just kinda happens. That's the beautiful thing about it."
As for their penchant for going back and forth between country and pop, Tyler tells ABC News Radio, "It's fun to step out of the box a little bit and do things with other artists. It's awesome. So for us to get to that was a huge honor with Jason, for sure."
FGL's Brian Kelley , meanwhile says that if he were given the choice of singing one of Jason's songs -- say, at karaoke -- he'd pick "Talk Dirty to Me" over "Wiggle" because he knows how to dance to the first song.
"We know how to do this move called 'The Haitian," Brian tells ABC News Radio. "It's a little dance move they taught us at the CMT Awards. I've kind've mastered it. A little hip thrust, a little head bob thing. I don't know what you call it, but it looks good!"
Florida Georgia Line has no plans to stop teaming up with pop artists anytime soon. Not long ago, Ed Sheeran told USA Today that the duo had approached him for a future collaboration.
Follow @ABCNewsRadio
Copyright 2014 ABC News Radio