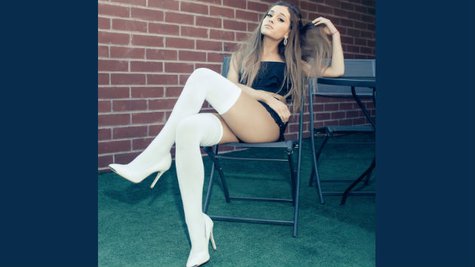 Miley Cyrus and Ariana Grande are friends! How do we know? Because Miley sent Ariana flowers, and Ariana's showing them off on Twitter.
Miley and Ariana were both winners at the MTV VMA Awards this past weekend, and there's a photo of them kissing each other. Now, Ari has posted on Twitter a photo of a flower arrangement of hydrangeas and roses, writing, "a special baby love sent me flowers... @mileycyrus u are the cutest angel pie in da world."
The day after the VMAs, Ariana posted the photo of her and Miley together, and wrote, "I heart u @mileycyrus & your big heart." She included a link to Miley's Prizeo campaign to raise funds for homeless youth.
It's no wonder that Miley and Ariana get along: they're both former child stars who've successfully made the transition to chart-topping pop divas, all the while facing criticism about being too "adult."
I 💜 u @mileycyrus & your big heart 💜💜 #myfriendsplace http://t.co/bGwpACg9jp pic.twitter.com/vLs4mf8PKL

— Ariana Grande (@ArianaGrande) August 25, 2014
a special baby love sent me flowers... @mileycyrus u are the cutest angel pie in da world pic.twitter.com/MI03SN7deW

— Ariana Grande (@ArianaGrande) August 28, 2014
Follow --ABCNewsRadio
Copyright 2014 ABC News Radio