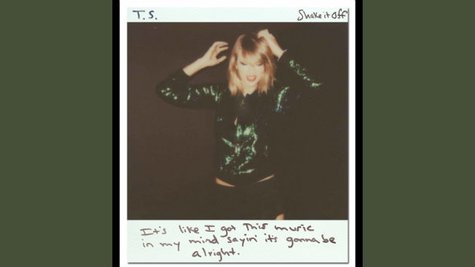 Taylor Swift 's "Shake It Off" has shaken up the Billboard Digital Songs chart with a massive debut.
The song, the first single from Taylor's upcoming album, 1989 , has not only debuted at #1 on the Billboard Hot 100 , but it tops the digital songs chart with first-week sales of 544,000 downloads, according to Nielsen Soundscan. That's the biggest sales week for any song this year, and the fourth-biggest debut sales week in history.
The only songs that started with more downloads in their first weeks are Flo Rida 's " Right Round," with 636,000; Katy Perry 's "Roar," with 557,000; and Taylor's own "We Are Never Ever Getting Back Together," with 623,000 copies. That song became Taylor's first #1 on the Hot 100; "Shake It Off" is now her second.
Taylor's reaction to her achievement? She tweeted multiple exclamation mark s while linking to the Billboard article.
"Shake It Off" is only the 22nd song in history to debut at #1 on the Hot 100. Considering that in the chart's 56-year history, there have been 1,038 number-ones total, that's pretty notable.
"Shake It Off" is Taylor's 60th song to chart on the Hot 100. Only one female artist has racked up more: Aretha Franklin , with 73.
Meanwhile, Nicki Minaj 's latest hit, "Anaconda," has snaked its way up to #2 on the chart from #39. This is now Nicki's highest ranking ever on the Hot 100; "Super Bass" reached #3, as did Britney Spears' 'Til the World Ends," on which Nicki was featured. "Anaconda" is Nicki's 11th top-10 hit, the most among female rappers. Missy Elliott ranks second, with nine.
Follow --ABCNewsRadio
Copyright 2014 ABC News Radio