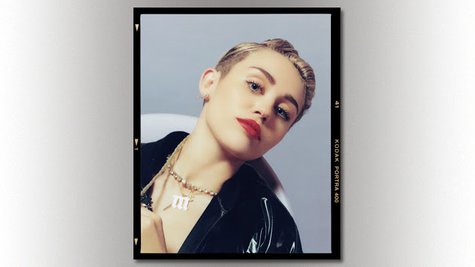 Tuesday night, Miley Cyrus helped Chelsea Handler bid farewell to Chelsea Lately , the comedienne's E! talk show.
Handler announced previously that she was leaving E! and heading to Netflix to create "docu-comedy specials" and also host Netflix's first talk show, which does not yet have a premiere date.
Miley performed Roy Orbison 's appropriate torch song, "It's Over." She also took part in a celebrity "We Are The World" spoof called "Goodbye to E!." The sing-along also featured Fergie , Gwen Stefani , Avril Lavigne , Bobby Brown , Alanis Morissette , country singer Trace Adkins , and many others.
In the show's closing moments, Handler asked people to donate to Cyrus' charity, My Friend's Place, the shelter in Hollywood that benefits homeless teens and helps them build self-sufficient lives. "Y'all are rich," Miley said of her fellow celebrity chorus members, "so everybody here should donate, that's all I'm saying." Chelsea insisted she'd "make" her wealthy friends pony up, but implored regular people to do so, too.
Follow @ABCNewsRadio
Copyright 2014 ABC News Radio